Description
320 amp hours (4096 watt hours)
These are very high quality lithium batteries. We encourage you to review the video on this page comparing them to another popular battery used in camper vans.
Internal/Integrated Neverdie® BMS Features:
NeverDie® Power Reserve (Spare Fuel) for Hotel Loads and Engine Cranking
Over-Charge, Over-Discharge and Short-Circuit Protection (LVC, HVC, SCC)
Low/High Temperature Charge/Discharge Protection
Internal Heating Kit: Permits Charging as low as -20C/-4F
Pushbutton On/Off switch for Safety and Storage
Battery Gauge and Status Codes for Health Monitoring
Bluetooth wireless telemetry with Lithionics Battery iOS and Android app
CANbus telemetry in the RVIA RV-C format (M12)
An alternator Field Control Circuit (FCC) (AMPSEAL8)
Remote LED illuminated On/Off Power switch (AMPSEAL8)
User Manual (PDF)
Warranty FAQs (PDF)
Performance Report (PDF)
Optional Remote Control Switch (PDF)
Compatible with inverters up to 3000 watts. Do not use with higher wattage invertors or to parallel-connected inverters. You must have at least 2x of these batteries in parallels when used with a Victron Multiplus 12/3000/120.
Model:
GTX12V320A-E2107-CS200
Nominal Voltage:
12.8 Volts
Nominal Watt Hours:
4096 WH
Internal Resistance:
<3 milliohms
Charging temperature range:
32F/0C to 131F/55C
Charge voltage:
14.4V recommended, 14.6V maximum
Recommended float charge voltage:
13.4V - 13.6V
Recommended charge current:
150A
Allowed max charge current:
200A
Discharging temperature range:
-4F/-20C to 131F/55C
Output Voltage Range:
10.4V to 13.4V
Recommended discharge current:
150A
Max discharge current:
230A
Pulse discharge current:
1200A (1 SEC)
Discharge cut-off voltage:
NeverDie® Power Reserve @ 12.00V Low-Voltage Cut-Off @10.4V
Mechanical characteristics
Weight:
Approx. 68lbs (30.8kg)
Storage Temperature & Humidity Range:
< 1 Month
-4~95°F (-20~35°C), 45~75%RH
< 3 Months
14~86°F (-10~30°C), 45~75%RH
Recommended storage
59~95°F (15~35°C),45%RH~75%RH
Self-discharge rate:
Residual capacity
≤3% per month; ≤15% per year
Reversible capacity
≤1.5%per month; ≤8% per year
Long Term Storage:
If the battery needs to be stored for > 3 months the voltage should be 13.2V (50%SOC), and stored at the recommended storage specifications shown above. Additionally, the battery needs at least one charge & discharge cycle every six months.
Lithionics Compared to "B" Brand
Our Lithionics Factory Tour & Deep Dive Into Their Batteries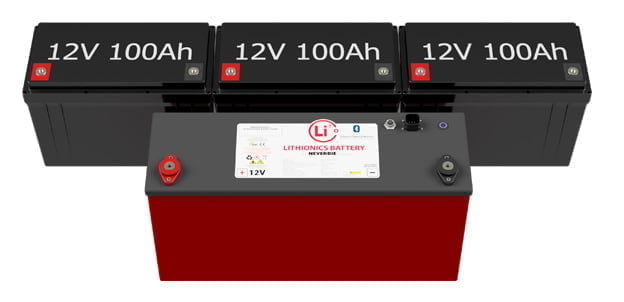 Important Installation/Use Notes
When installing these batteries into your electrical system, Lithionics recommends 4' (or longer) size 2/0 cabling from the battery terminals to your disconnect switch. Then you may use a minimum of 8' of 4/0 cabling for the rest of the pathway to a MultiPlus inverter/charger (from the battery switch, through the main fuse, to the Lynx Distributor (bus bar) and from the Lynx to the MultiPlus DC power in). Our example wiring diagrams call this out.
We then recommend using the manual disconnect switch as follows:
When going from "use mode" to "storage mode" first turn off the batteries from the system using your disconnect switch and then turn off the batteries themselves with the power switch on the batteries.
When going from "storage mode" to "use mode" you should first ensure that your battery disconnect switch is off, then you can turn on the batteries with the power switch on the batteries. Once you observe a solid LED light on the battery switch you can then turn on the battery disconnect switch.
This configuration and procedures will protect the battery from damage by the inverter.
If you are using Lithionics batteries with a Victron MultiPlus or MultiPlus II 12/3000/120, you should be aware these units draw the most current during "pre-charge", and require special consideration. You should ensure that you're using the latest firmware on the batteries (2.07 or higher). In addition, as of January 2022, Lithionics has updated their battery hardware to add an "internal pre-charge circuit".
If you're using two or more batteries in your system (as our examples show), it's important to differentiate the batteries on the CAN bus. By default, each battery will have the same "battery id" and "CANSA" which are 1 and 70 respectively. Think of these as their sort of address on that network. You can leave one battery as is, with the default settings but you need to change these addresses on the second (or third, etc.) batteries. This is very simple and this video shows how to do it.