Description
What's Included
Sturdy yet lightweight black anodized aluminum extrusion frame
Beautiful bamboo doors, wall panels and top
Your choice of 400Ah, 600Ah or 800Ah of Victron Energy lithium battery storage for massive off-grid capability
Victron Energy MultiPlus II 12/3000/120 inverter/charger providing 2600 watts of 120 volt AC power that can surge up to 4000 watts along with up to 120 amps of battery charging capability
2x, Victron Energy Lynx Distributors (one used for battery connections and other used for loads/chargers)
Victron Energy Lynx Smart BMS w/ integrated shunt/battery monitor
2x, Victron Energy 30 amp Orion DC-DC chargers (non-isolated) enabling you to charge your batteries at 60 amps when driving
Victron Energy Cerbo GX with the Touch 50, 5″ control screen interface (upgradable to the Touch 70, 7″ version)
Victron Energy 100/30 Smart MPPT solar charge controller (upgradable to the 100/50 controller)
Blue Sea disconnect switch
120 volt AC and 12 volt DC distribution with circuit protection ready to power your branch circuits/loads:

120 volt AC: 1x 15 amp and 1x 20 amp circuits available
12 volt DC: 12 circuits available (you'll choose appropriate fuse size)

Integrated venting
A 120 volt AC and 12 volt DC outlet on the rear of the cabinet
Fully wired, configured and tested
If your van has WIFI internet connectivity through a dedicated router, hot spot or similar, you can connect the included Cerbo GX to the internet and add it to Victron Energy's free monitoring solution called VRM which allows you to monitor, control and configure your system from anywhere in the world.
This system uses the Victron Energy Lynx BMS allowing you to upgrade your system to use a dedicated secondary alternator with Wakespeed regulator in the future if you need additional charging capability.
Dimensions
56.5" long by 30" high (or 36″ high with optional base/riser) by 19" wide.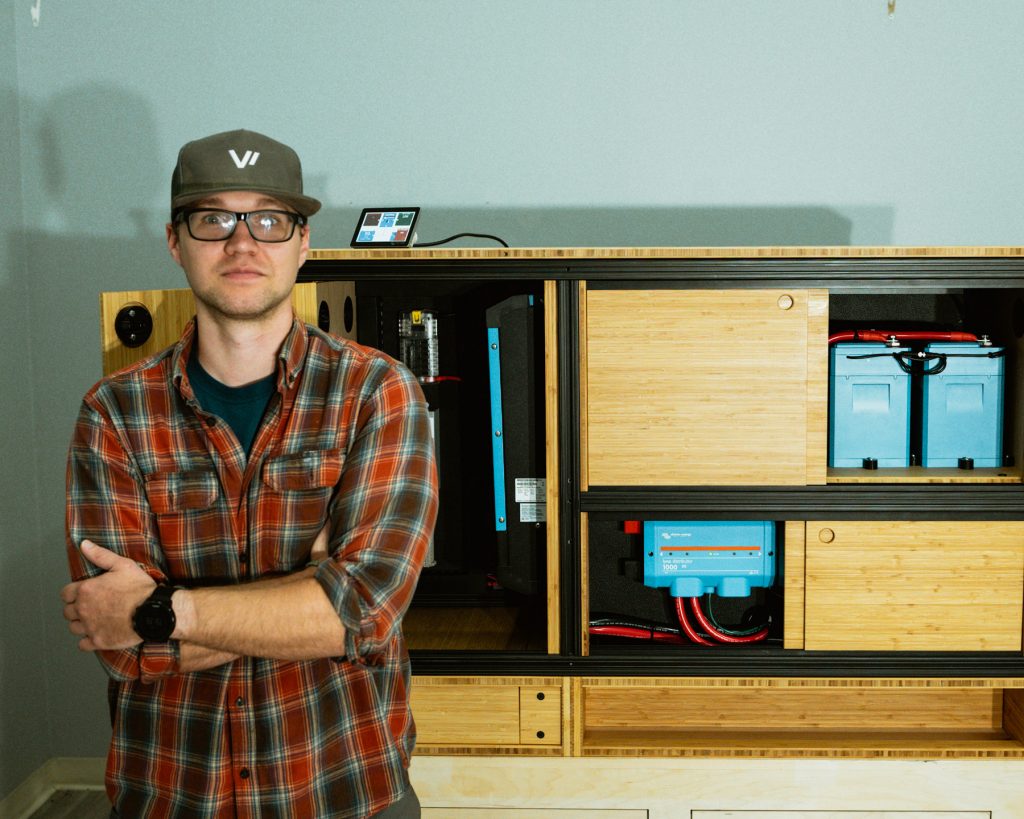 Designed and engineered by Jesse Wagler, an experience electrical engineer who worked extensively in the automotive industry.