Description
The Moon Box has over 400 elements that fit together perfectly to create the lightest modular piece of furniture in its class available on the market. Moon Box is made of high-quality aluminum and special cellular boards, bonded with an adhesive of unprecedented strength. You can easily sort and secure your belongings. It comes with a unique set of securing nets that will protect your belongings from uncontrolled mess, accidental falling out when opening, but mst of all it will organize the space in the moon box.
Often used as an upper cabinet, the Moon Box is designed with a special shock-absorbing material to guarantee a bump to the head won't leave a mark!
The Moon Box is made from durable fabric and the inner side is laminated with a special coating making it waterproof and vapor-proof.
Installation & Specifications
The VanDer Moon attachment system is included with each Moon Box. Each Moon Box has 6x metal reinforced mounting holes that are designed as slots so that you have a lot of room for adjusting. Included with each Moon Box is 6x "Moon Fix" brackets (photo of these here) which are compatible with L-Track and have M6 x 40mm bolts attached.
If you are not using L-Track, you can install rivnuts (not provided) or other methods. We find that either 5/16″ or 1/4″ rivnuts/bolts work well in the mounting slots of the Moon Boxes.
Click here to see some close-up photos of the mounting slots and hardware.
Dimensions

13-1/2″ tall x 12″ deep x the width you choose (available in various widths).
Rear Panel Angle & Cargo Van Compatibility

Moon Boxes are made with various rear panel angles (90, 103, 108 and 110 degrees). This is to accommodate the shape of various vehicles. The versions we're importing are the 110-degree model since they work with all 3x of the most popular cargo vans for conversions without modification (Sprinter, Transit and Promaster).  Below are the "native" angles of each of these cargo vans. As you can see the 110-degree model are all within 7 degrees of the van's "native angle" which makes them simple to install. Here are some photos of a Moon Box inside a Promaster and Sprinter van for reference.
Promasters: 103-degree native angle
Transits: 108-degree native angle
Sprinter: 110-degree native angle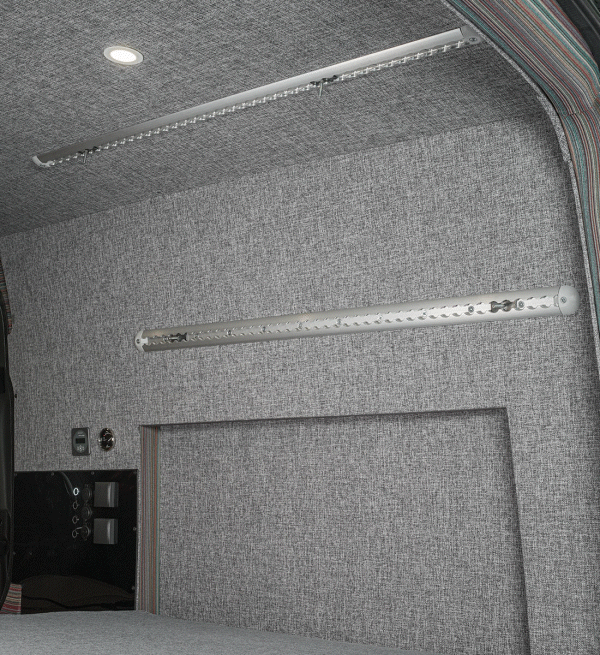 Dark Grey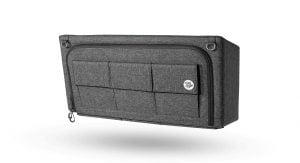 Grey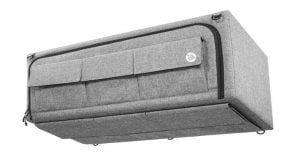 Blue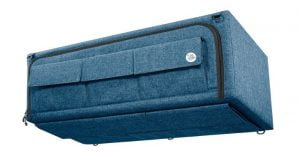 Extra Small (19.7")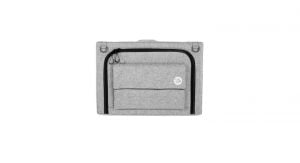 Small (27.5")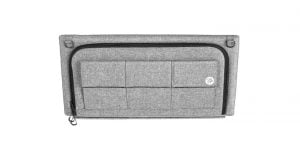 Medium (35.4")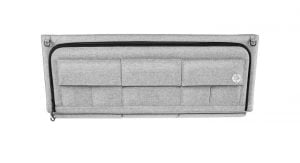 Long (45.2")