On my first build, I used a standard hitch-mounted "cargo carrier". It turned out to be super versatile and a great addition. Most of the time it carried our bikes but also worked for things like paddle boards and other gear. When the bikes (or whatever) were off it was a nice "platform" off the rear of the van for using the outdoor shower to rinse off sand after a beach day or generally get off the ground. I also mounted a Valterra sewer hose storage tube onto the cargo carrier that I use to empty the grey water tank. The only issue was that you couldn't open the rear doors, and all the storage under the bed, unless the bikes/cargo was taken off.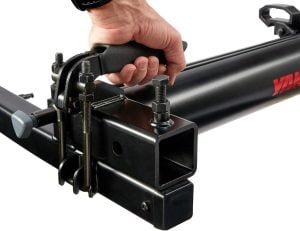 So, for my latest build, I wanted to come up with something that would make accessing/opening the rear doors easier. After some research I found a few "swing away" hitch adapters and ultimately decided on the Yakima Backswing which connects to the 2″ hitch receiver and then allows you to connect a rack to it's 2″ receiver. At first I tried another standard cargo carrier but the combination of the Yakima Backswing and this cargo carrier was much too long.
So, I evolved the setup with an inexpensive platform-style bike rack. It had quite a long piece of metal that coupled with the 2″ receiver (don't know what that thing is called!) that I ended up cutting down to the shortest length possible to effectively connect up to the Yakima Backswing and drilled a new hole for the hitch pin. This arrangement is much "shorter" and works great. When the bikes are on the rack the assembly can swing out of the way just enough to use the back doors but it doesn't add a ton of extra "length" to the van.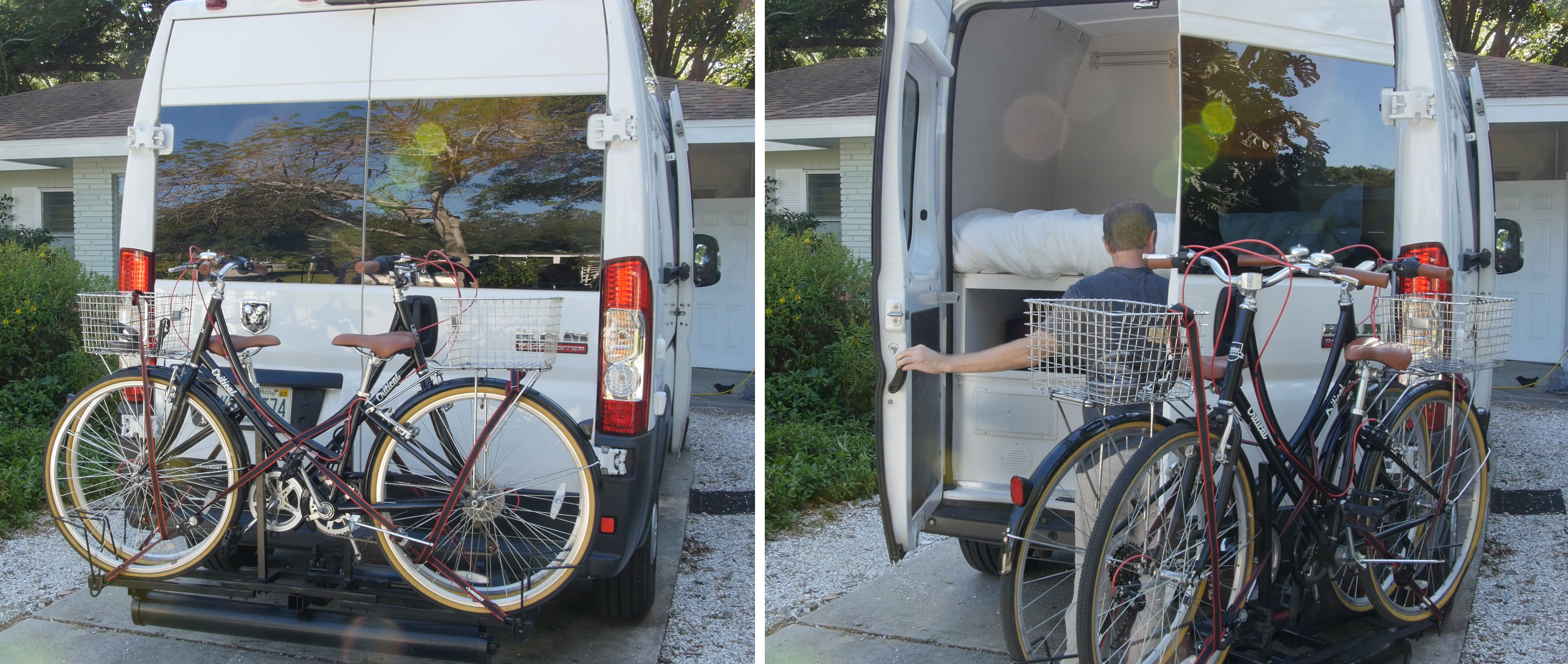 Short Video Of The Thing In Action
I Appreciate Your Support
Please note, some of the links from this website are "affiliate links" which means that if you click on one of them, I'll receive a small commission. This helps support the blog and allows me to continue to create content. I only recommend products that I've used or have researched for myself.
You can support this site by using this link when shopping on Amazon
. For more details and other disclosures please read my
policies and disclosures page
. Thanks!