This post details the electrical system in my latest camper van – Miles Van Camper v3. I have converted three Promasters at this point! You can read about Miles Van Camper v1 or Miles Van Camper v2 and their electrical system here.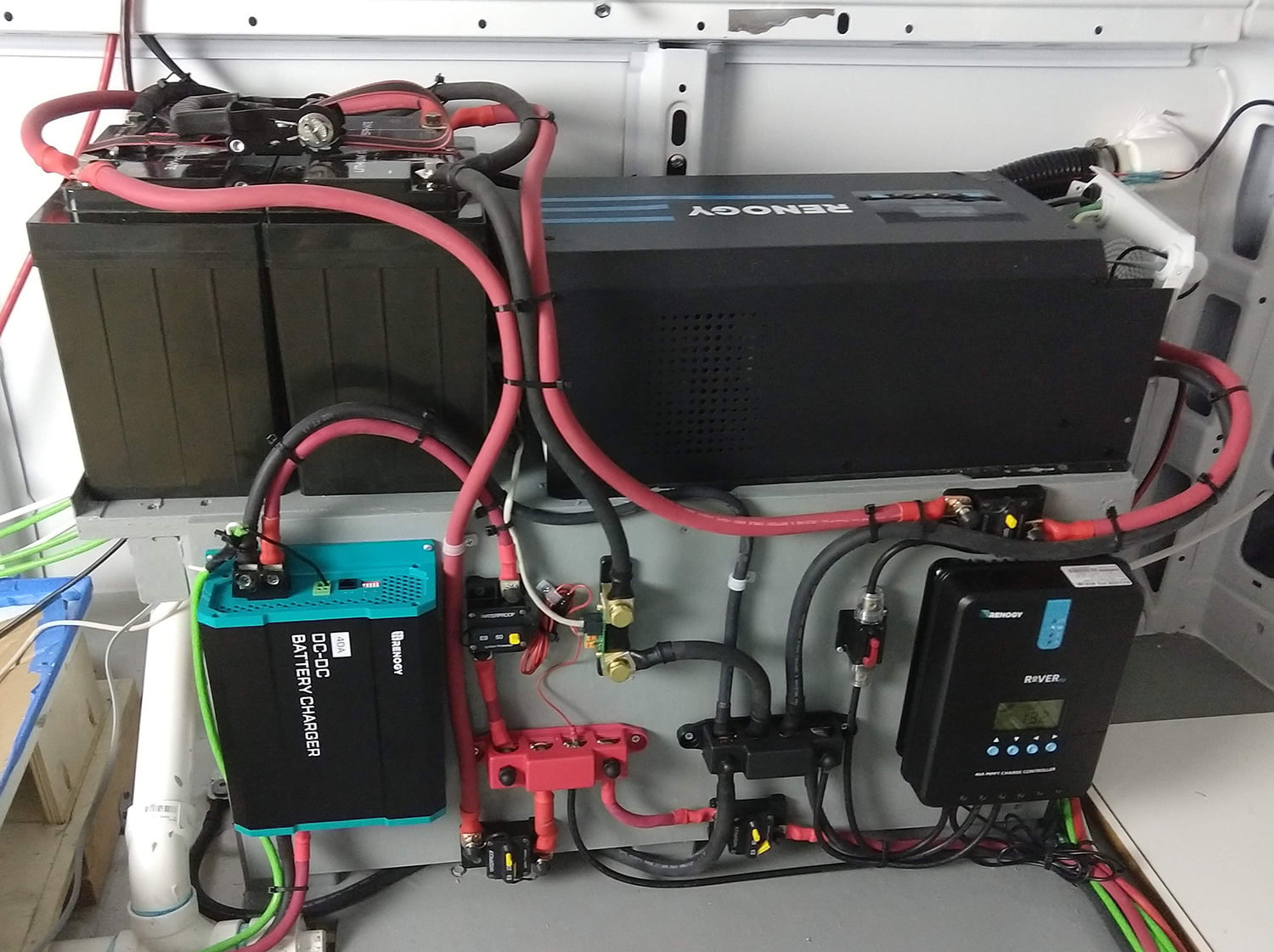 Wiring Diagram
I detailed the electrical system in Miles Van Camper v3 in this PDF wiring diagram.
Components and Materials Used
2x Renogy Lithium-Iron Phosphate Batteries. Each battery has 100 amp hour of capacity and they are wired in parallel to provide a total of 200 amp hours of usable capacity. I left space for a third battery in case I wanted to grow the system in the future.
Renogy 2000 Watt Pure Sine Inverter/Charger. This "newer" (at the time of this post in September 2019) supports charging lithium batteries. Inverters take the 12 volt DC power from your battery(s) and convert (invert) that to standard household voltage which is 120 volt AC so that you can operate household electronic appliances. In my case it powers things like the microwave, computer chargers and the rooftop air conditioner for short periods of time. Anytime you connect to "shore power" (plug your van into an outlet at a campground or host), the inverter will automatically transfer any loads to that shore power connection and it will use that electrical connection to charge your batteries.
Note: this inverter ONLY charges lithium batteries when the voltage drops below 12.5 when using the lithium charging settings. In other words, unlike AGM or other lead acid batteries which get charged anytime you're connected to shore power, this only charges the lithium batteries when they are fairly drawn down. I wrote to Renogy about this and after a few weeks of "checking with their engineers" I received this in their response "please note the inverter/charger will recharge Li batteries but as stated in the manual; you will only be able to recharge the Li batteries when the battery voltage drops below 12.5 volts and charging will be suspended once the batteries reach 14.7-volts.".
Renogy 40 Amp DC to DC Charger. These are also known as "battery to battery chargers". Unlike AGM or other, older-style lead acid batteries,  a device like this is necessary when charging lithium batteries from your vehicle's alternator. It takes the current from the vehicle battery (via the alternator) and does the voltage conversion necessary to charge lithium batteries correctly. Notes on the installation of this unit below in this post.
Note: Renogy now sells a 60 Amp version of this which I intend to upgrade to in the future. It should be a direct swap out since I used 2 AWG wire for the run between the Promaster battery and the DC to DC charger!
Victron BMV-712 Battery Monitor. This allows you to track how much charge you have left in your battery bank, any charging input coming in (from solar, driving, etc.) and any draws from the battery. It can also transmit all this information via Bluetooth to a mobile device.
Winegard Togo 4G and WIFI Router. This white dome is installed up on the roof of the van. Inside it has both WIFI and 4G antennas that provide you two ways to connect to the internet. You can either pull in a distant WIFI network from a campground, Starbucks or wherever OR you can enable the 4G connectivity by purchasing a data plan from AT&T. Two plans are available 1) a $25/month plan that includes 5GB of data or 2) an annual plan for $360/year ($30/month or $1/day) that provides unlimited data. Regardless of which internet connection type you choose (4G or WIFI), the Togo serves as a router that creates a WIFI network inside your van (RV) so you can connect up multiple devices (mobile devices, computers, smart speakers, etc.). I've tested this using 4G connection for a few months now and it works great as long as you have AT&T service. There are no data caps but you may be subject to "network management" (slightly slower service on congested towers) after 22 GB of data use. Because the antennas are on the roof it essentially doubles as a cellular booster similar to a WeBoost. I removed the branding stickers from mine since they were so big.
Connecting the Renogy DC to DC Charger to Ignition Switch and DIP Switch Configuration
Unlike some other battery-to-battery charging products that sense voltage and trigger the charging based on that, the Renogy DC to DC charger (or battery-to-battery charger) that I used requires you to connect up a 12 volt positive "signal wire" from the vehicle's ignition switch so that it only charges from the van (vehicle) battery when the ignition is turned on. Without this ignition trigger on this unit or the voltage sensing on others, the battery-to-battery charger could easily drain the van battery since the battery-to-battery charger would be pulling current without the alternator providing a charge.
After some research I discovered that Promaster vans have a "Upfitter Connector" on the passenger side "pillar" which is that area just behind the passenger seat where the seat belt connects tot he van wall. If you remove the black plastic trim at the bottom of this "pillar" you'll see a white multi-pin connector (photo below). This is the "upfitter connection" that provides a variety of connection points for the Promaster in one spot. This PDF file (Promaster Upfitter Connector Diagram PDF) details this connector including what each pin on the connector is/does. Turns out that pin #13 is an "ignition feed" that has 12 volt positive when the ignition switch is on. So, I used this to be the "trigger" for the Renogy DC to DC charger.
Close Up Shot of Promaster Van Upfitter Connector with Pin #13 Connected: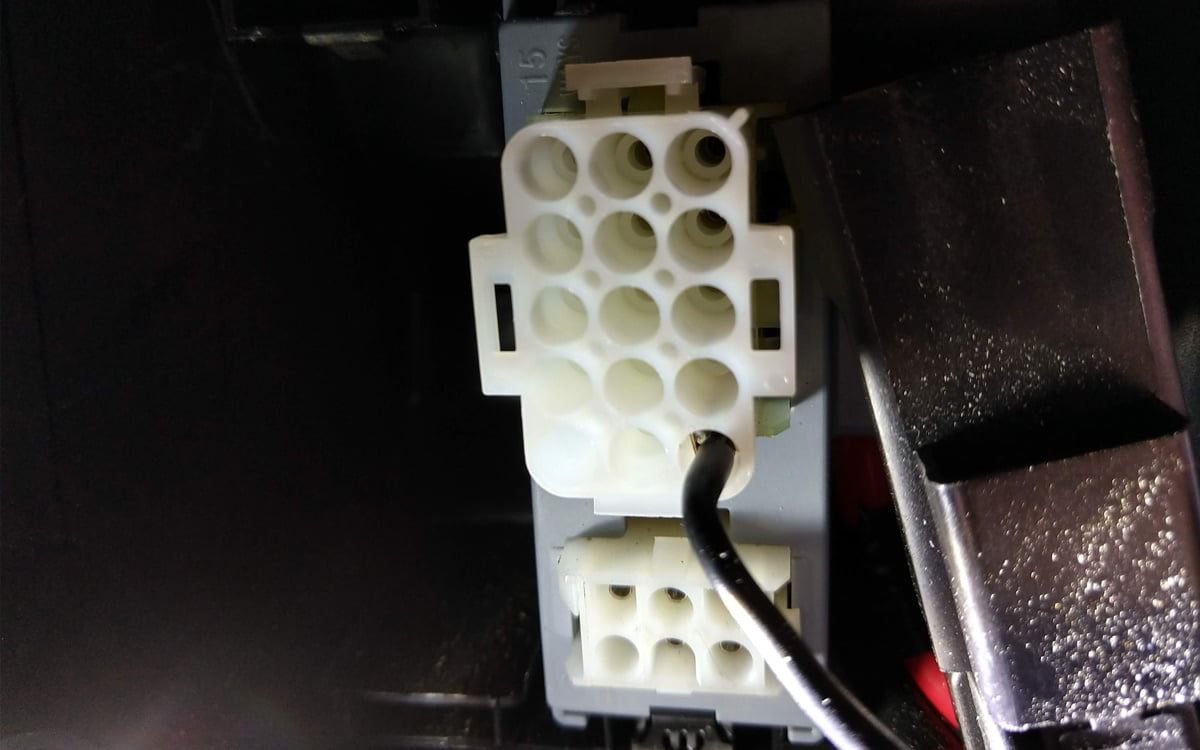 In order to do this, I had to order the correct, "male" version of this connector as well as the "pin" itself. The way this works is that you solder the correct wire to an empty pin and then insert that pin into the correct position on the connector thus allowing you to access and wire up a variety of things to this upfitter connector. These parts are pretty inexpensive so I bought a few with the expectation that I'd destroy a few figuring out how this all works. I'm glad I did because I did indeed destroy a few experimenting. Ultimately, it's not difficult but finding the right parts and how they fit together took some time. So hopefully this saves you that time!
Soldering the Wire to the Pin: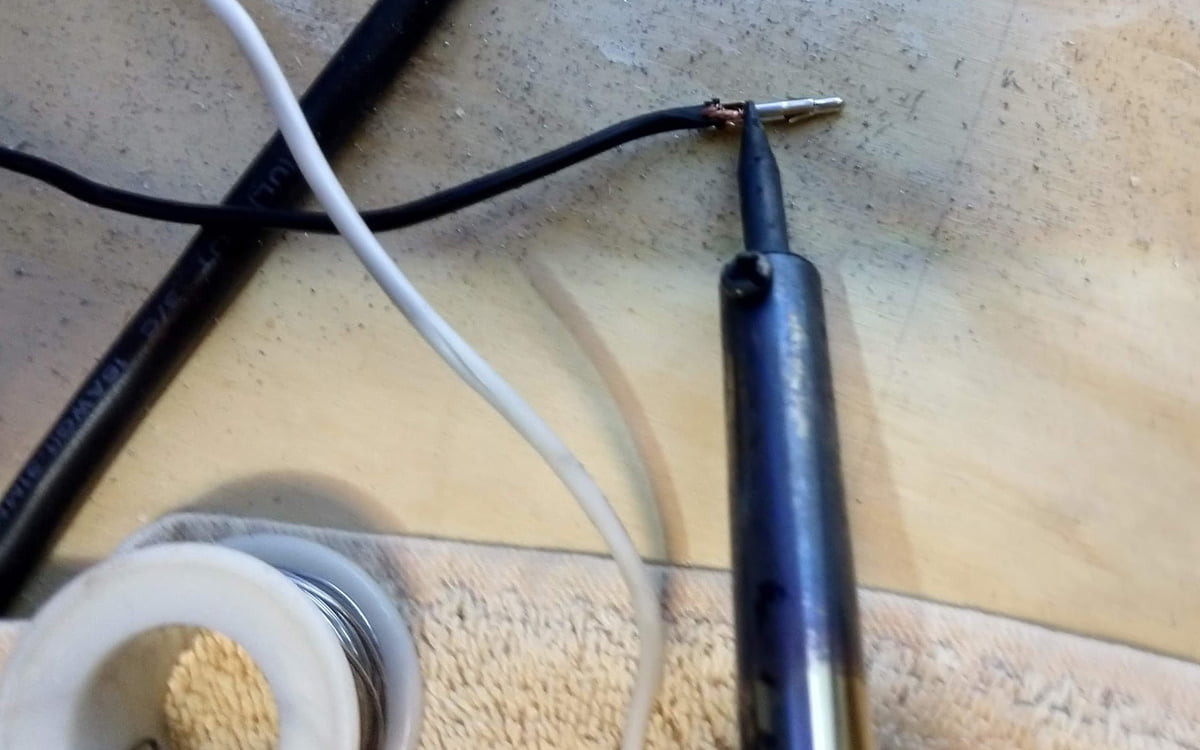 The wire coming out of pin #13 on the Upfitter Connector runs back to the rear passenger side wheel well where the primary electrical system is installed and is connected to the Renogy DC to DC charger on a terminal labeled "D+". Below is a photo of this connection: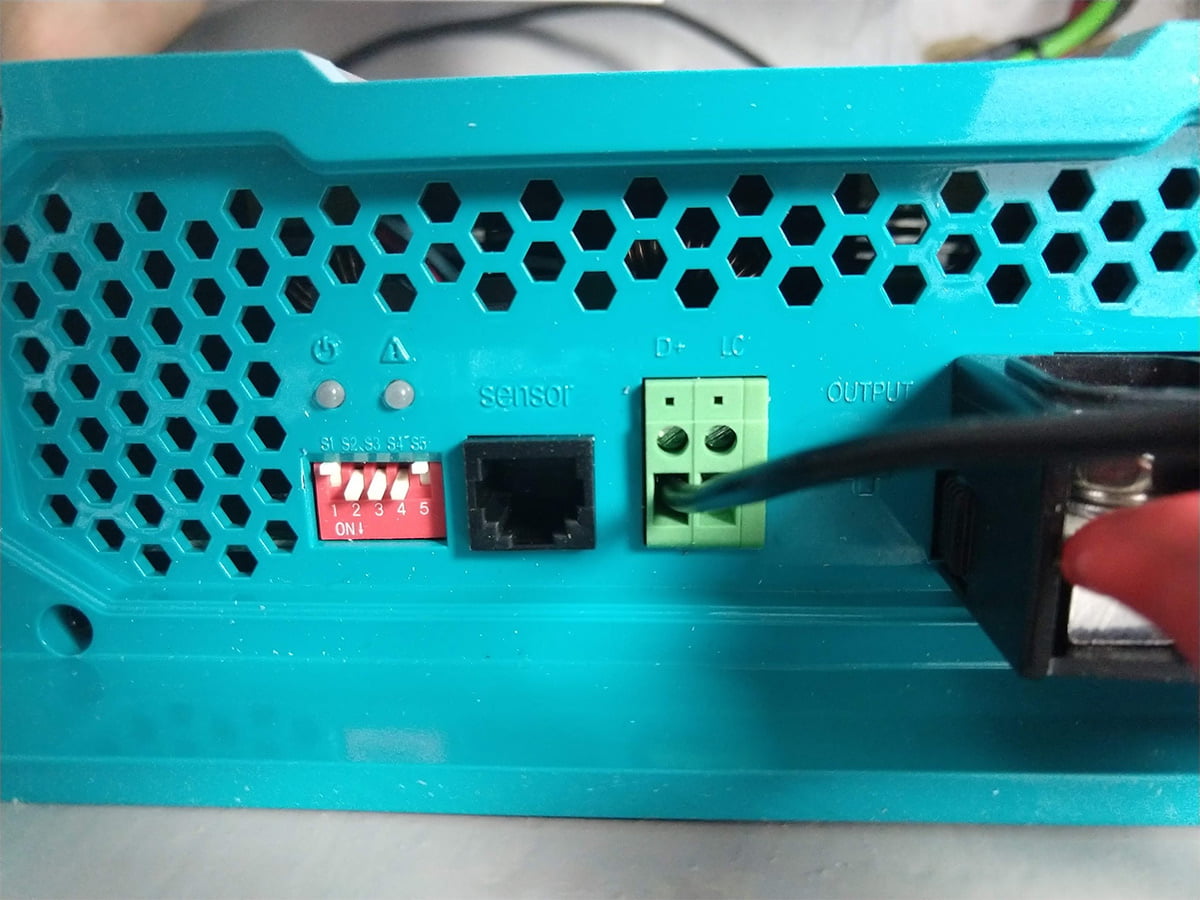 Next I had to configure the Renogy DC to DC charger to correctly charge the lithium batteries using the DIP switches pictured above. The manual for this Renogy DC to DC charger is really bad and the section on setting up the DIP switches is complete gibberish. I gave up on it pretty quickly and called into Renogy support. The correct DIP switch settings for charging lithium batteries with the Renogy DC to DC charger is:
Switch #1: Off
Switch #1: On
Switch #3: On
Switch #4: On
Switch #5: Off
I Appreciate Your Support
Please note, some of the links from this website are "affiliate links" which means that if you click on one of them, I'll receive a small commission. This helps support the blog and allows me to continue to create content. I only recommend products that I've used or have researched for myself.
You can support this site by using this link when shopping on Amazon
. For more details and other disclosures please read my
policies and disclosures page
. Thanks!