Description
There are many reasons why the Lagun table mount is used in just about every camper van build you'll see! First and foremost, it's incredibly versatile – it moves up and down vertically, the arm swings in any direction and the mounting plate itself also spins in any direction. In addition, each of these movement points can be locked or unlocked independently. You can also easily remove the table top to be stored/used elsewhere in your build or you can remove the entire table system from it's mount. You can even purchase an optional, additional mount so that the entire system can be used in a variety of places in your van. Finally, it's constructed of durable yet lightweight aluminum. You really can't beat this table system in terms of quality or versatility.
Features:
Compatible with trucks, campers, boats and RVs – in fact anywhere you need a table
Stable, strong and salt water resistant anodized aluminum construction
Swivel feature for quick, easy storage to create more floor space
Locking system for secure use and when travelling
Adjustable height – effective 18″ up/down movement achievable depending on mounting position.
Optional additional mounting plate for using in two locations if required
Easy installation
Rated for loads up to 55 pounds (25 kilograms).
Can be used with a variety of table top sizes – up to 40" x 28" (1,000mm x 700mm).
What's Included:
Sliver (slim) bracket – 6-3.4″ x 1-1/4″
Vertical leg – 19.7″ (500mm)
Horizontal arm – 15.7″ (400mm)
Under table mounting plate – 7.9 x 11.8″ (200 x 300mm)
3x stainless steel nuts and bolts for the sliver mount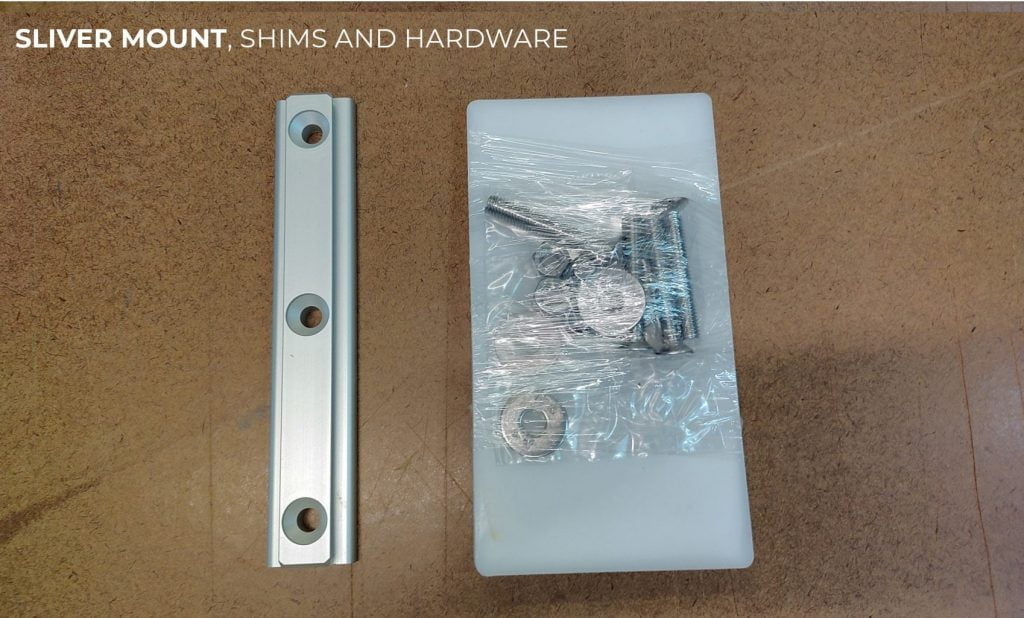 Sliver (Slim) Mounting Bracket In Action