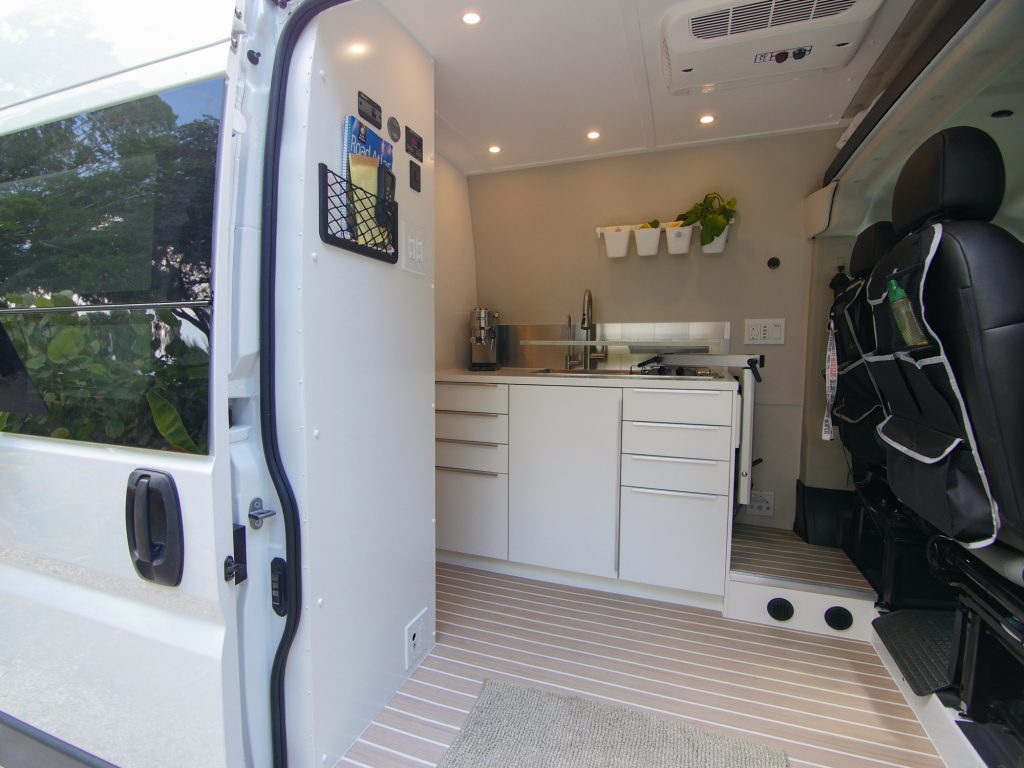 Zach has created three versions of Miles Van Camper but they have all been very similar. Miles v1 was built in 2016, Miles v2 was built in early 2019 and Miles v3 was built in late 2019. All three feature an clean and elegant design with a wet bath/shower, fixed bed in the rear, full galley with large refrigerator, rooftop air conditioning and heater.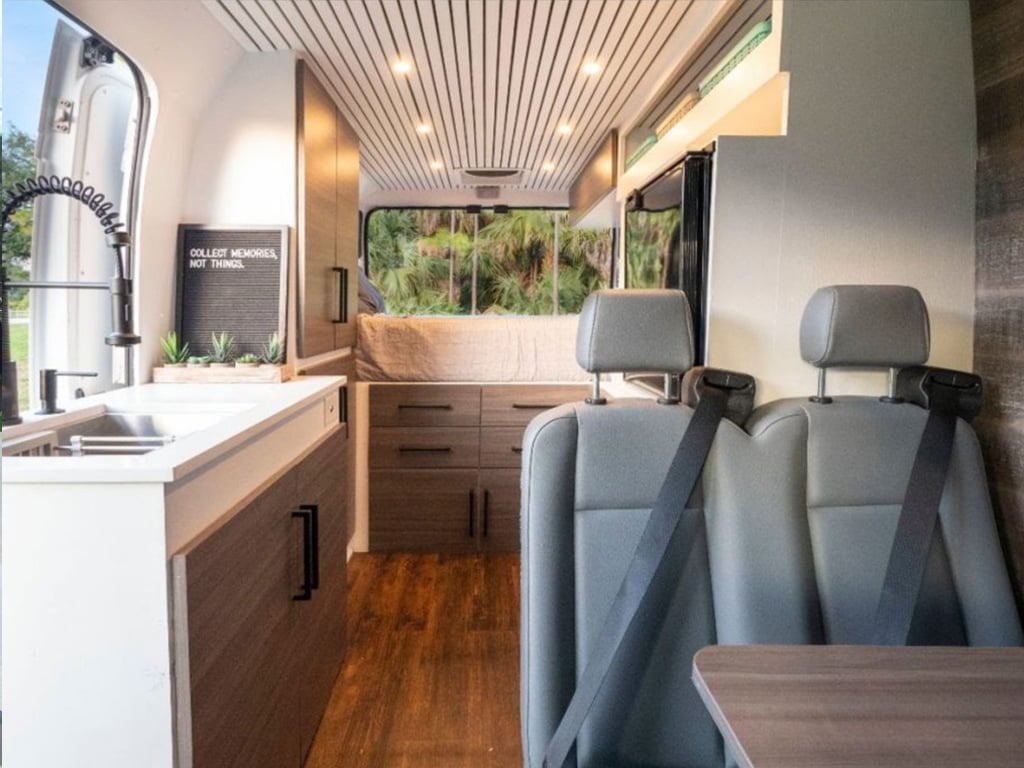 After spending two years living in his first van, Josh wanted to build another van with all the knowledge he accumulated from the road. He took the floor plan from his original Grey Van and improved it based on "everything he would change" if he ever built another van. He put the fridge at eye level;  lowered the bed; created a dedicated work/dining area;  added seats with seatbelts for friends and family trips; added even more outlets and storage; used heavy duty drawers in the garage and made the van ultra stealth.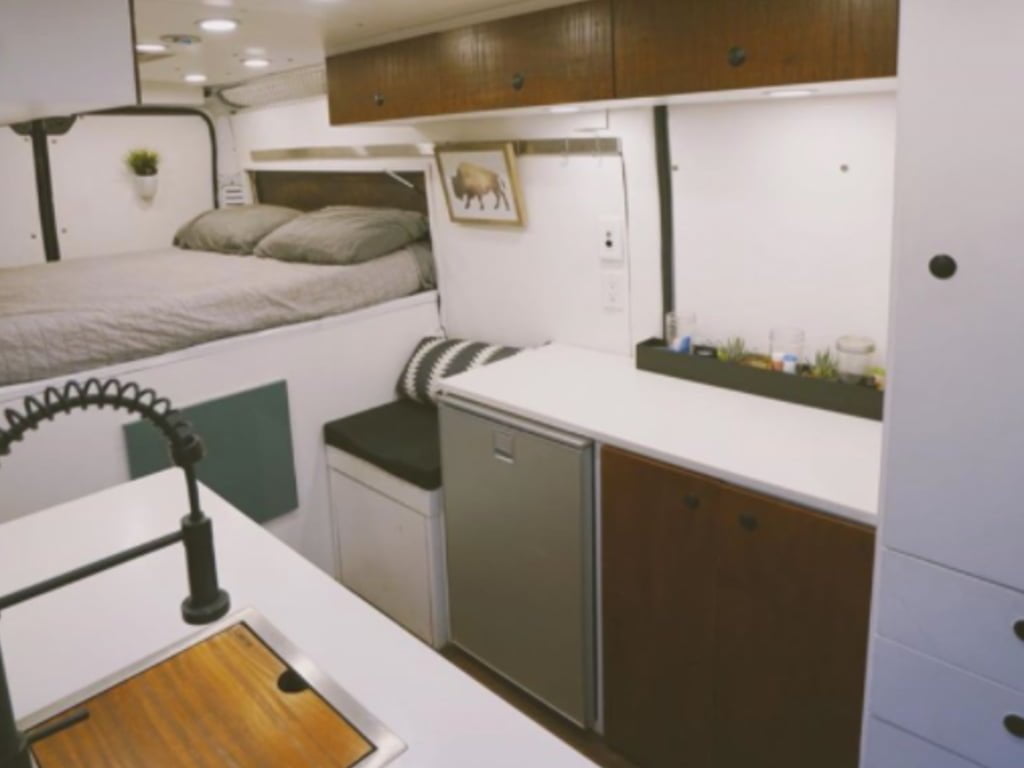 The Boondocker was the van that started it all for me. I wanted something comfortable but rugged and minimal. I wanted something that could take me to remote campsites and allow me to boondock for 2+ weeks without a need for water or power hookups. I rhino lined the exterior to protect from branches and rocks. I added a roof rack to store my kayak and I added all terrain tires to take allow me to access even more places. I built out the inside with a tall cabinet closer to the cockpit to create a more open floorplan and I installed my sink in the doorway to double as an outdoor shower. Almost everything in The Boondocker serves at least two functions.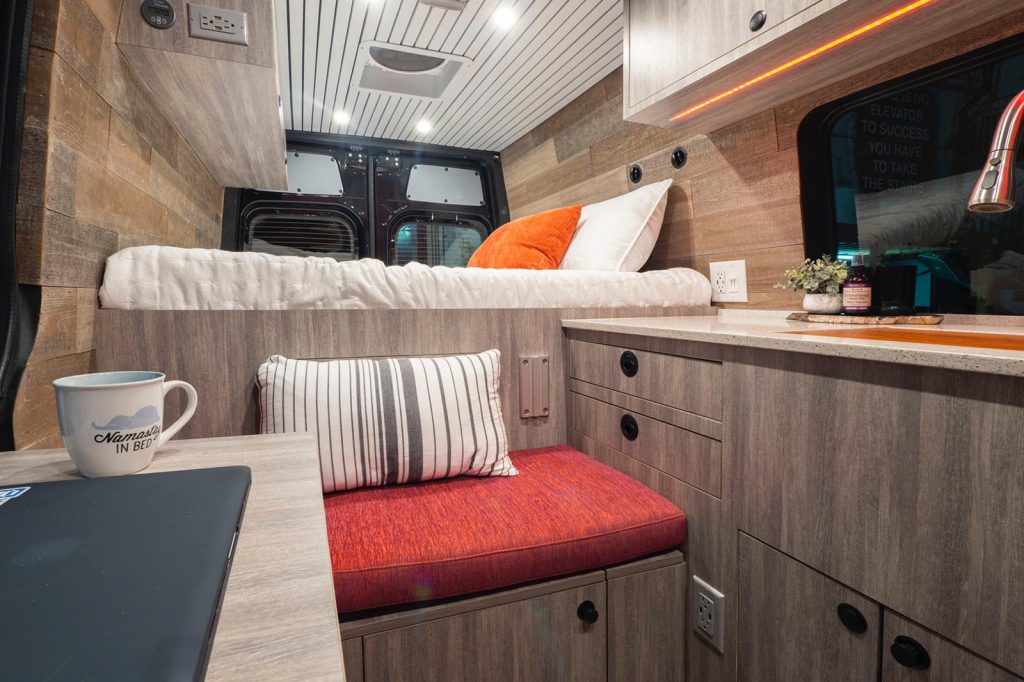 Gunnison Van
The Gunnison is a rugged yet refined off-road capable camper van with a sleek and contemporary design built on a Mercedes Sprinter, 144″WB, High Roof, 4×4, Diesel. This van contains a lot of high-end customized features while still keeping the build down to mostly essentials. We added a couple of luxury items like a microwave compartment and a 12v AC system just to keep some creature comforts. The areas where we put these items could be repurposed at any time for more storage simply by removing the appliance. We spend a lot of time thinking up floor plans that allow adaptability and change because you never know what you will truly need until at least six months on the road. We always recommend customers wait to add big ticket items unless they're absolutely sure they want it. We design the floor plan so that it's not a big project to add things down the road (pun intended). You can always add something later, but once it's bought and installed it's yours whether you're actually using it or not…that's a tough pill to swallow on a big ticket item like a shower or air conditioner.