Description
Check out this energy efficient 12-volt air conditioner that is perfect for a camper van. It installs onto your van's roof just like traditional RV air conditioners but is vastly more energy efficient. Most rooftop air conditioners require 120 volt AC power to operate. Normally this is provided by shore power or a generator. In some cases you can run a standard unit from an inverter but inverters often struggle "starting" the compressor. In contrast, this Mabru unit runs directly from your 12 volt DC battery bank.
Mabru RV air conditioners are extremely energy efficient – even when compared to other 12 volt rooftop units. If you take a look at our comparison spreadsheet, you'll see that the Mabru uses about the same amount of power as the Dometic 2000 RTX while producing nearly twice the cooling capacity! The reason is that Alain Mabru has leveraged his decades of marine cooling experience to engineer an innovative "inverter" system for the compressor. This design provides substantial improvements in energy efficiency, quieter operation and longer longevity than traditional compressors.
So, while Mabru is relatively new to the RV/van market, they are well known and respected in the marine world and have been in business for 38 years providing products for high end private yachts and military vessels. ​
We highly recommend using lithium deep cycle batteries with this unit.
Not sure which unit is best for your rig? Check out our comparison spreadsheet to see many of the most important data points across the various units at a glance. We'll be continually adding to this reference over time and expanding it with as much "real world" testing as we can!
Cooling Capacity: 12,000 BTU
Quiet operation: rated at 33 dBa.
Power consumption:
Power Consumption – Amps at 12 Volt DC
Mode
Fan Low
Fan Medium
Fan High
Low (Eco)
22.5
25.2
34.2
Medium
40.8
43
46.2
High
48.2
51.2
54.4
Weight:  AC unit itself without brackets/packaging, etc. is 59 lbs. Net weight in box is approximately 76 lbs.
Dimensions:
Rooftop unit: 38.2″ long x 33.8″ wide x 6.5″ tall
Interior unit with vents and controls: 18.1″ wide x 11.4″ long x 2.8″ tall
Optional outer trim panel (with integrated LED lights): 36.9″ wide x 21.5″ long.
Roof hole/cut out size: 14.62″ long x  20.25″ wide, plus 4x drilled holes for the mounting bolts. The unit ships with a roof cutting template (example).
You'll also need a roof penetration for the wiring that is adjacent to the rooftop unit itself. We recommend using something like this solar entry gland for running the wires through the roof to the location where you'll connect them to the unit's 12 volt DC supply from your electrical system. If you use the solar entry gland that you'll need to remove the grey connectors on the wiring harness that comes out of the unit itself and the extra length of harness that is included in the box because the entry gland is designed to have an opening (gland) for both the DC positive (red wire) and DC negative (black wire) to pass through rather than one, much larger connection. You can use these "splice kits" to connect the wires if you do remove the grey connectors. Regardless of how you route the wires through your roof, we recommend making trying to make this connection accessible for any future maintenance or repairs.
In some cases, you can also install this unit into a "standard" 14″ x 14″ roof opening. This requires some basic disassembly and reassembly. Please see the manual (link below) for details. You will need to reshape the styrofoam "air flow director" (photo).  One of our customers completed an installation into a 14″ x 14″ opening in September of 2021 and reported the following about this process: "I ended up cutting a notch out of both sides of the base (the part that is attached to the bottom of the Mabru) about 2″ wide 1-1/2″ inches deep. This allows the foam to fit in the opening and press tightly against the bottom of the Mabru. This will leave a gap between the bottom of the Mabru and the van sheet metal which can be sealed with a piece of foam from a hardware store. I used a 1-1/4″ gasket typically used for when installing window ac units."
Note: temperature units are shown in Celsius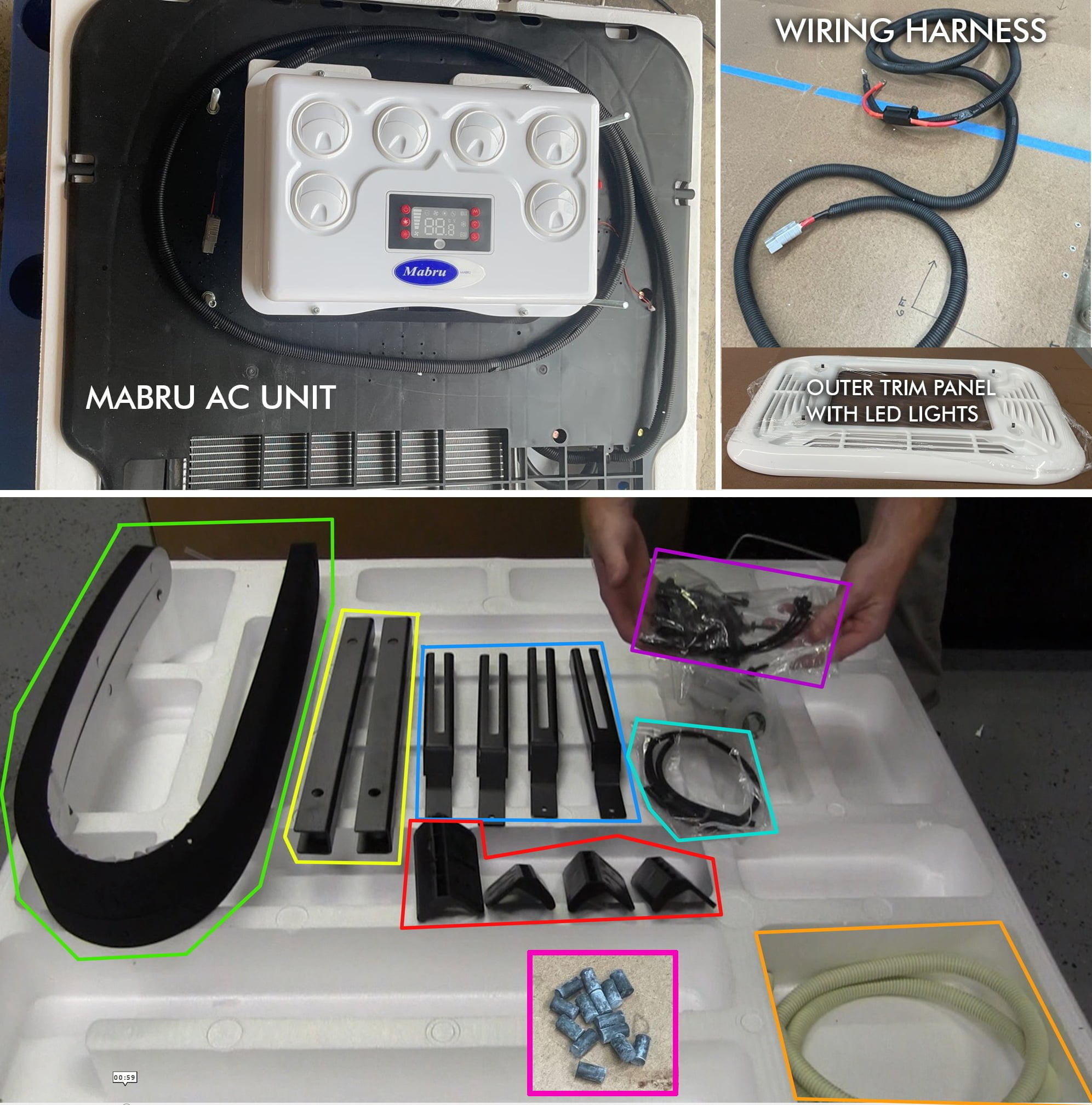 Mabru 12,000 BTU rooftop AC with approximately 11′ wiring harness connected to the unit.
Additional 11′ wiring harness with integrated 80 amp fuse and ring terminals (6 AWG wire).
Optional, outer trim panel with LED lights. If you choose to make your own trim around the vents/controls it must also serve as the return air inlet and must provide adequate air flow. Here is an example photo with air flow between the ceiling boards.
Foam gasket (1-1/4″ wide) (green outline).
Mounting brackets (yellow outline).
Mounting bracket extensions (blue outline).
LED light wiring (light blue outline).
Wire ties, mounting hardware, etc. (purple outline).
Remote control (white outline).
Plastic angle brackets – not used (red outline).
Rubber spacers – not used (pink outline).
Optional 1/2″ condensation hose (yellow outline).
Roof cutting template (not shown). Example PDF.
Manual.