Description
The earlier generations of the Nomadic Cooling units were considered one of the smallest rooftop units in the market, but the Nomadic team envisioned an even smaller footprint. So a few prototypes later, they reduced the dimensions significantly and improved its performance by using a much quieter and longer-lasting brushless internal fan. The compressor has also been mounted on spring bushings to help with road and operational vibration and longevity. The upgrades do not stop there, as Nomadic focused on the all-new intelligent LCD board. Our X3 has an all-new modern crisper panel to ensure better visibility even in direct sunlight. The entire MCB has been revamped with better electrical components, circuitry, and more intelligent operational logic. This translates to the compressor adapting considerably faster to freezing points, better error code detection, and speedier motor over-current, providing less supervision and downtime.
Modes
Eco mode should be the default operation type on a Nomadic Cooling air conditioner. The powerful mode should only be used for short periods of time for maximum cooling or initial cooling of the space and then changed to eco mode to save on power consumption.
We recommend a minimum of 400Ah of lithium batteries, depending on the desired runtime/environment.
Not sure which unit is best for your rig? Check out our comparison spreadsheet to see many of the most important data points across the various units at a glance. We'll be continually adding to this reference over time and expanding it with as much "real world" testing as we can!
Key Features
Quiet, brushless internal fans mean noise at maximum power is at or below 60dBA.
Super energy efficient. The unit has a 100 amp compressor but its variable speed technology allows it to operate at much lower power consumption and adjust to ambient conditions as necessary. See the video below for more information!
Intelligent microprocessor control system, allows the user to set the temperature based on the desired temperature.
Includes multiple built-in protection functions such as pressure alarm, power high/low voltage, motor over-current, and motor temperature protection.
Fits in industry-standard 14×14 opening
One of the smallest of any rooftop DC air conditioners
Sight glass for on-the-road troubleshooting
Modern LCD control panel
Stainless steel hardware
Spring bushing-mounted compressor and rubber-dampening feet ensure virtually vibration-free operation
Assembled and tested in Phoenix, Arizona, USA. Each unit comes with a video clip of its testing run sent to you before shipment.
Specifications
X3 Model – 12V
Current Eco Mode: 50A
Current Max Mode: 110A
Rated Power (W): 1,320
Rated Cooling Capacity (BTU): 11,830
Refrigerant: R134a
Refrigerant Oil: POE68
Refrigerant Quantity(g): 600 ±30
Speed Range: 1,000-3,000 RPM
Weight: 57.3 lbs
Outdoor Size (IN): 31.33 × 31.5 × 7.36
Power Cord Specification (IN): 2 AWG
Power Consumption Tests Video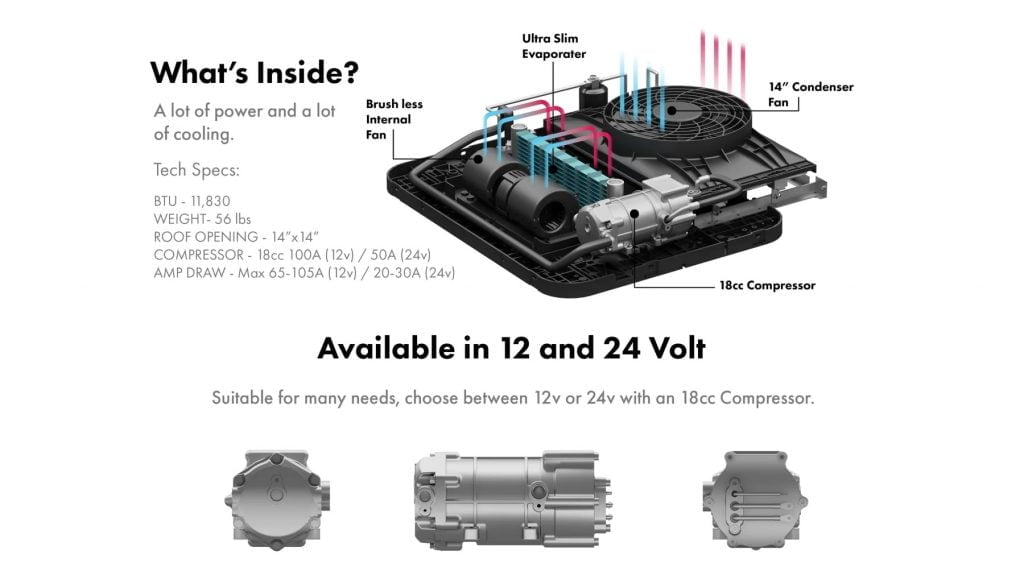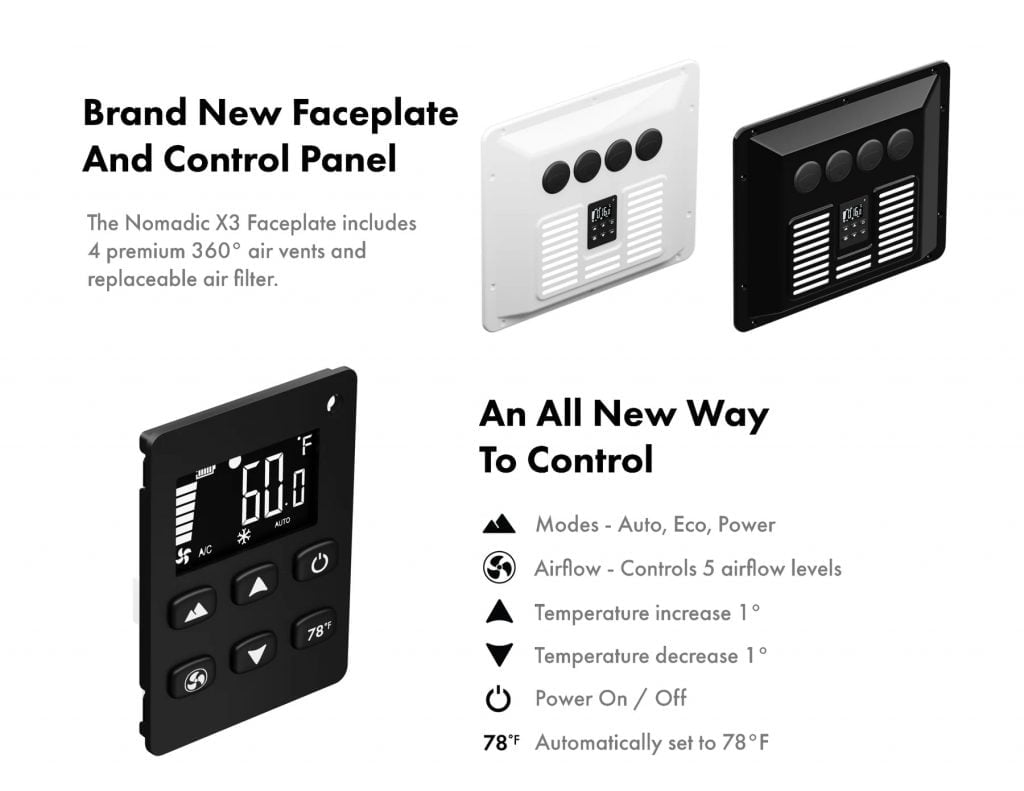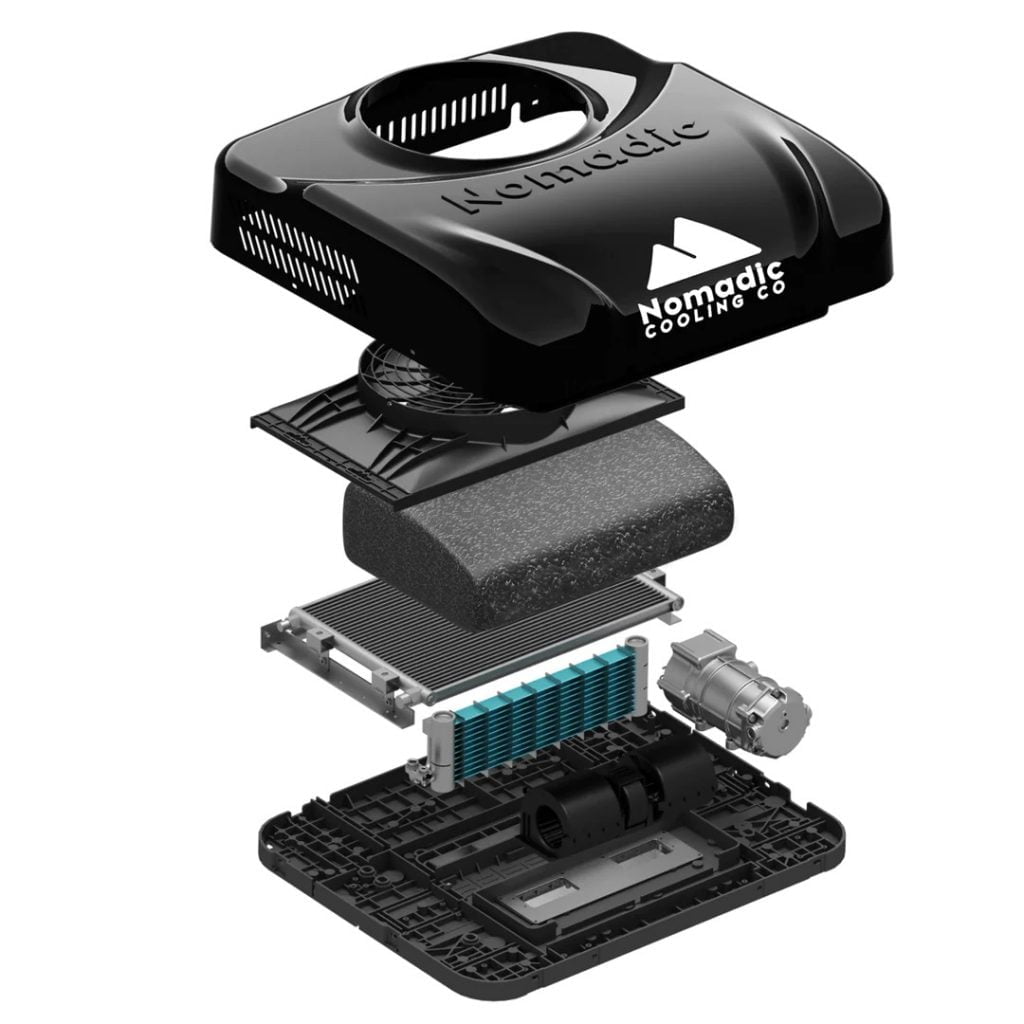 What's Included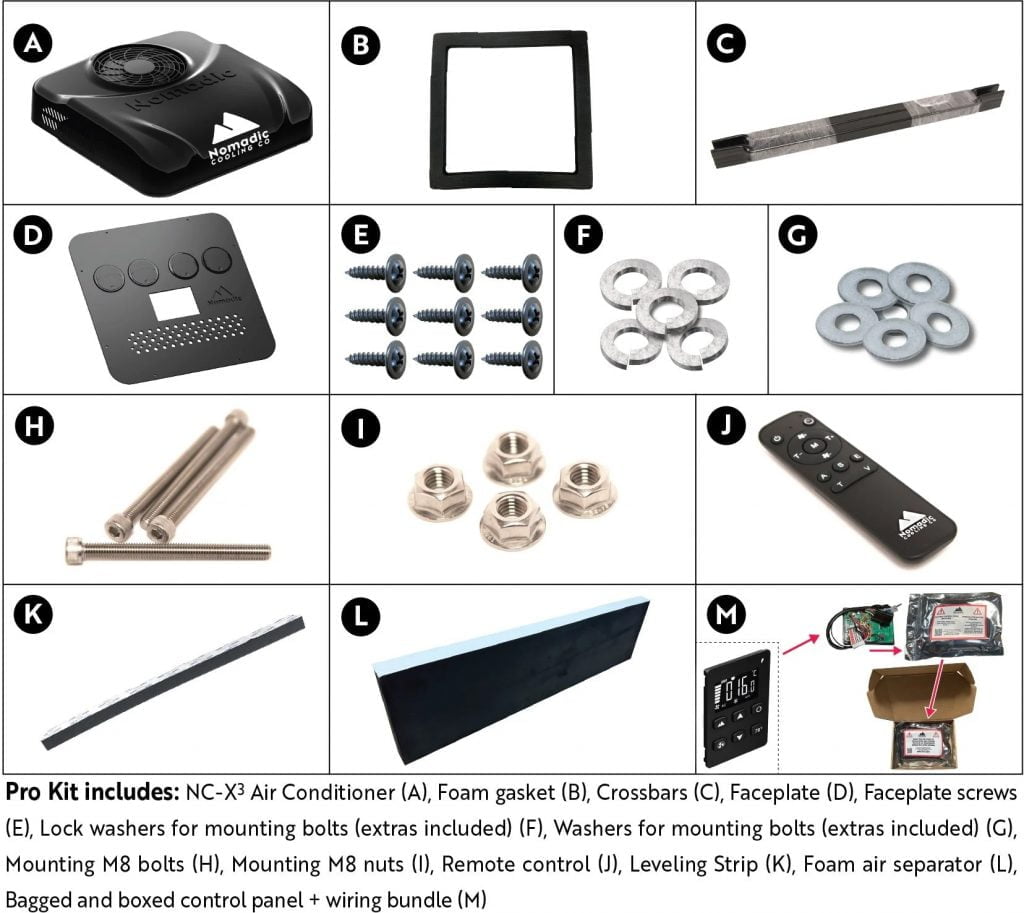 Optional, Add-On, DIY Installation Kit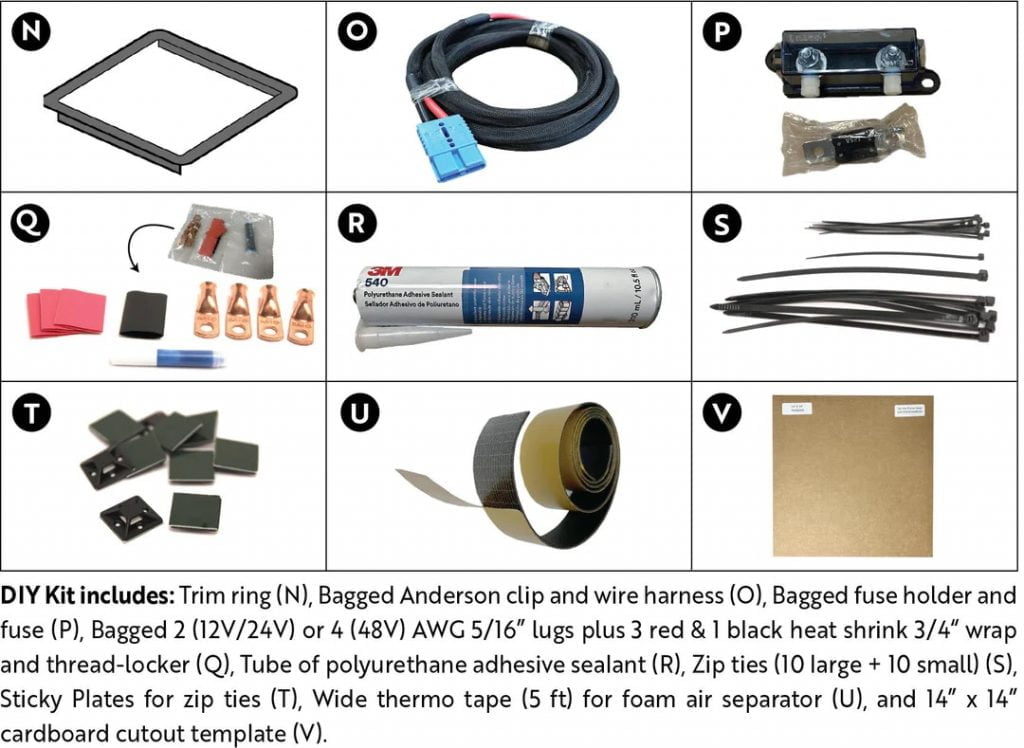 Optional, Add-On, DIY Installation Kit