Description
Fiamma F45S awnings awnings are designed to mount to the side of a vehicle and are often used on flat walled vehicles such as class-c motorhomes. There are many mounting brackets available for various vehicles when you add this product to your card.
These awnings use legs to support the awning either against the wall of the vehicle or to the ground. They come with a manual crank but a 12 volt DC motor option can be added when configuring your awning.
The awning comes in various lengths and case colors. The shortest model (F45S 260) extends out 6′ 6″ and all the other models extend out 8′ 2″.
For Ford Transit Vans
This model can be installed on Ford Transit high roof Transit vans using the Fiamma bracket (98655-741) that can be ordered below. You can check out the manual for that bracket here.  Here's a great blog post about this from Far Out Ride. For mid-roof Transit vans, Fiamma recommends adding a roof rack and then mounting a F45S to the side of the roof rack. You can check out racks from Aluminess or Flatline Vanco.
Recommended Lengths for 2014-2020 Ram Promaster
136″ wheelbase high roof: 10′ 1″ length
159″ wheelbase high roof: 11′ 6″ length
159″ wheelbase high roof extended length: 13′ 1″ length
Recommended Lengths for 2007-2020 Sprinter
144″ wheelbase high roof: 10′ 1″ length
170″ wheelbase high roof: 11′ 6″ length
170″ wheelbase extended high roof: 13′ 1″
For VW Eurovans or VW Vanagons we recommend 8′ 9″ (F45S 260) and 10′ 1″ (F34S 300) models.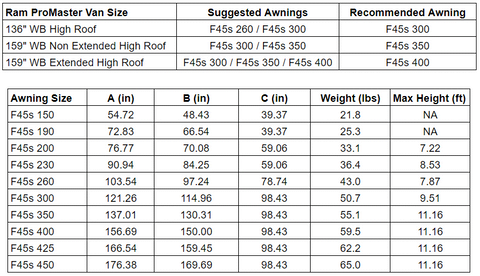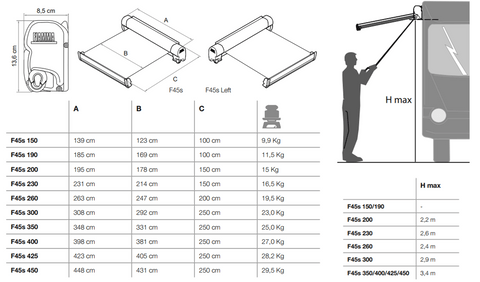 About the LED Light Optional Upgrade
Adds an awning case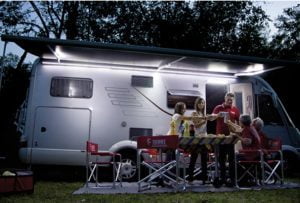 LED light bar that is suitable for external use and is inserted (with pressure) in the lower housing rail of the case. It comes in a standardized length of 8.2 feet (2.5 meters) and includes:
1x light bar with wiring for the 12 V electrical connection
4x additional light bars
Made in USA! Two year limited warranty. Warranty to the original owner.
Need Parts Or Accessories?
We sell the entire line of Fiamma products so we can help you with replacement parts or accessories! Please contact us with your particular needs and we'll be happy to help!