Description
Fresair is a new, extremely energy efficient evaporative cooling unit for camper vans and RV's. It's the perfect alternative to a traditional AC unit that can be powered directly from your 12 volt battery and ran for long periods of time. This innovative system leverages state-of-the-art evaporative cooling to create a viable off-grid cooling solution and can cool the air up to 40+ degrees from ambient temperatures (see chart below).
The patented Fresair system is roof-mounted and works by forcing air through a moist fibrous organic pine filter, which is both anti-bacterial and anti-fungal. The filter is circulated with water from a remote tank that is easily filled/refilled.
The cooling effect is generated by evaporation and is triple filtered, feeling dry, unlike a typical "swamp" cooler or misting system. It also filters out dust and pollen when it's running!
Low 12v 10A (max) power consumption
Solution for air cooling for long period of time from your van's battery
Works great as a rear AC system
Works great with the doors and windows open or closed
Provides COOL not wet air
Low noise and low-profile "stealth" design
Installs into standard 14″ x 14″ openings that are used for traditional rooftop AC units or vent fans
Included remote control
Light Weight – Weighing in at only 26.5lbs you'll be less top heavy and save on payload.
Low Profile – The unit has a low sleek profile of 4.3", streamlined (no wind noise). It's form factor is so low it will even fit underneath roof racks or solar panels.
Adjustable Ceiling Vents – The internal control panel has four directional air-craft style vents to direct air where you need it. Spread air between a kitchen and sleeping area. Close vents to concentrate air on a certain area.
Powerful Cooling – Temperature drop between ambient temperature and vents can reach -40° F! On average at 85° F ambient temperature you will see 20°+F drop. The hotter the environment the larger the drop.
Air Flow – WARNING: The airflow on full blast will literally blow your hairpiece off. Runs even with windows or doors cracked to exchange air every couple of minutes.
Eco-Friendly – Running on water and battery power alone as well triple-filtering the air and running clean, even off solar power alone, Fresair is your green energy solution.
Low noise – External noise is so low as to run all night with no attention from passers by or camping neighbors. Very discreet and no compressors making you the target for noise-police.
Runs Cool – No heat venting from the unit, runs cool even in direct sunlight, you can even install a rooftop tent above it and maintain comfort for all.
Runs Dry – State of the art evaporative cooling technology delivers cool air, not moisture. With a fan-only mode you can also simply keep air moving without cooling. No more sweaty sleepless nights… also acts as a blissful sound soother.
Run with doors open – Traditional AC is designed to work in a sealed off environment. Who wants to keep everything shut up tight when the idea is to be out there enjoying everything freedom has to offer? Our system runs even with open doors, creating a cool air flow. At night just crack a window to keep air circulating and fresh.
Retrofit – Fresair will install easily into any pre-existing standard 14"x14" opening. If you have trouble installing an internal reservoir the new S7i has a reservoir built in, just connect the power to 12v and run "in & out" hoses to fill, internally or externally.
Reservoirs – A slim 18L reservoir is provided but you can go your own way and connect to your fresh water tank, customize your install. Fill the reservoir directly or via a pump from your fresh water tank. Or, just connect directly to your main fresh water tank. Fresair just needs a water feed and return. At peak usage Fresair will use under 1L of water per hour. Run it all day!
Great for traveling with pets – Running into the store or restaurant, have a pet in the back, kids hanging out… just leave Fresair running worry free and return to a cool van.
Technical Specifications
Weight: 26.5 lbs.
Rooftop unit dimensions: 33″ wide x 25″ long x 4.3″ tall.
Interior panel/vent dimension: 14″ wide x 11.25″ long. Depending on which van/location you place the unit the interior panel will hang down into the interior space about 4.25″.
Electrical draw: maximum 10 amps at 12VDC.
Water tank capacity: 18 liters / 4.75 gallons.
Warranty: 1 year.
Each Purchase Included:
Fresair unit
Two spare water pumps
Remote control
18L reservoir with mounting brackets (set up for horizontal installation out of box but can be adjusted for vertical installation if needed)
(2) rolls of sealing foam (thicker used around the outside of the hole and thinner used around the perimeter of the system)
Template
Finishing frame
Hardware
Traveling In Very Hot & Humid Climates?
Because the Fresair uses sophisticated evaporative cooling it's best for climates with lower humidity. If you're traveling often in very hot and very humid locations, you will need a traditional, compressor-based AC system which use significantly more energy but are much more effective in those environments. The chart below details how the effective cooling capability drops as the relative humidity increases.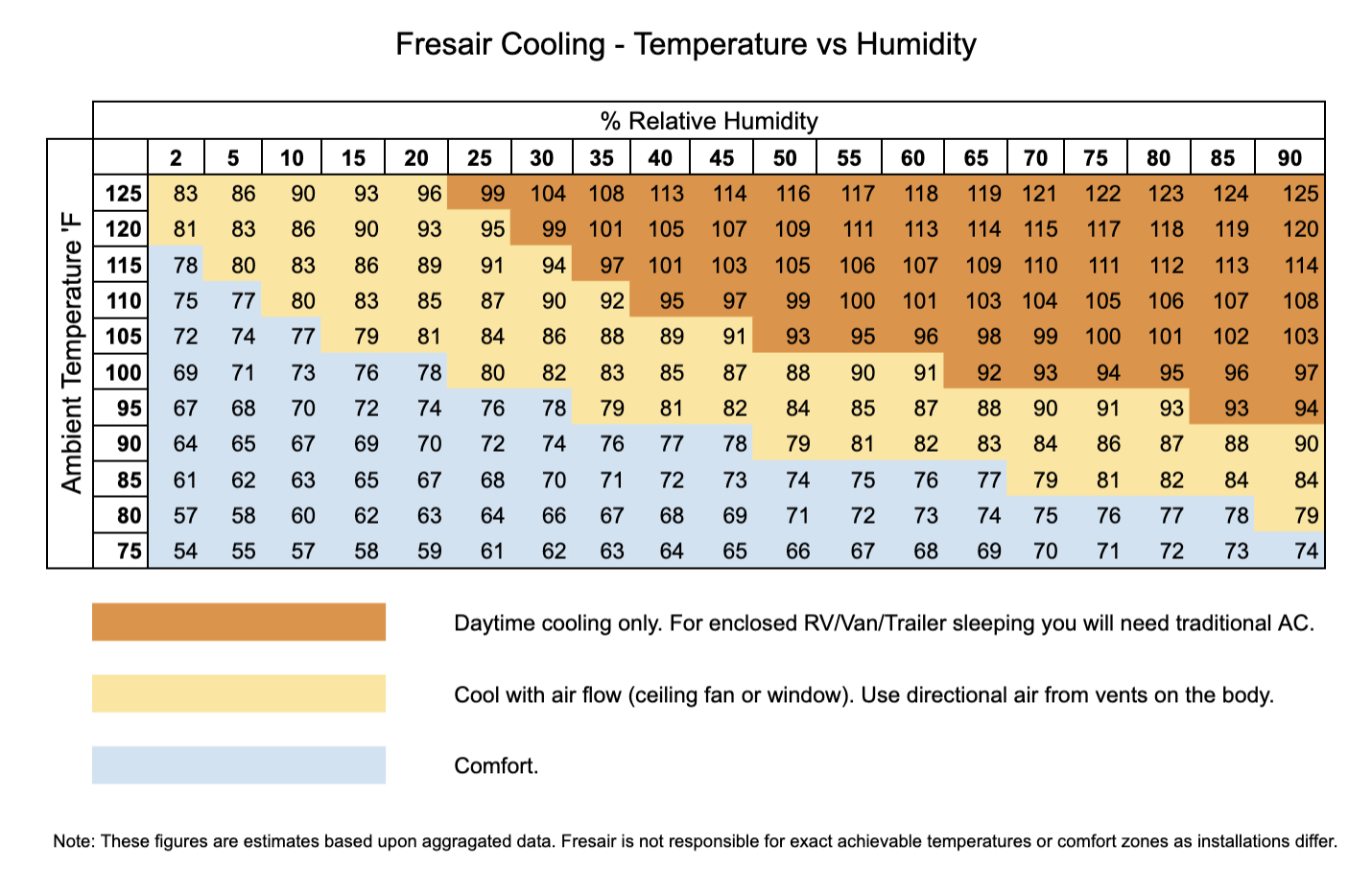 Fresair Air Conditioner Camper Van Installation Video
(S6 & S8 Installation procedures are the same)