Description
Mounting a large capacity grey water tank underneath a Promaster van is a real challenge (we've been there). The "cavities" under the van are odd shapes and not very deep. So, we're very excited to offer this 26 gallon, custom molded grey water tank system that was designed specifically for the Promaster!
Highlights
Holds approximately 26 gallons of grey water while virtually disappearing underneath the van and maintaining the ground clearance of the vehicle.
Complete kit comes with everything you need for the install including the tank itself, heavy duty steel mounting brackets, stainless steel attachment hardware and your choice of dump valve.
Mounts underneath the passenger side slider door (see illustration for details).
Your choice of dump valve is included (more details below).
Heavy duty, 1/8″ zinc plated (electro-galvanized) steel mounting brackets use existing holes in the structural members of the van to accept provided rivnuts – only one new/additional hole must be drilled. The brackets come unpainted. We recommend that you paint your brackets to prevent corrosion.  (The metal used to make the brackets is zinc plated (electro-galvanized) but during the fabrication process, the cut edges lose their protective coating). We recommend painting these brackets but we also offer a black, powder coated version as an upgrade.
Custom molded from medium-density polyethylene (MDPE).  Polyethylene does not contain BPA and is FDA compliant for drinking water which means these can be used to hold drinking water.
Each of the "high points" on the tank have a 1/8″ brass breather vent to allow the tank to fill completely.
Seem Expensive?
We understand this might seem expensive but it's a custom molded tank that is produced in small batches for a pretty niche market. Also, consider the costs of using an 0ff-the-shelf grey water tank as outlined below.
$182 for an off-the-shelf grey tank. There are not many grey water tanks that can fit under the Promaster and hold about 26 gallons. The one Zach used in his first three vans works alright but it is taller than our custom tank so it eats into the ground clearance more and you can see it from the side of the van.
$20 for a gate-style dump valve.
In 2019 Zach spent about $85 on the hardware to mount the tank under the van (angle brackets, bolts, nuts, etc.). Plus he had paint that all black and struggle under the van for much longer than was comfortable.
$25 for miscellaneous PVC parts/glue/etc.
Shipping can vary depending on where you source all these parts but let's assume that it costs you $20 in shipping or gas driving to the hardware store.
This totals $352 in baseline costs. In addition to that, you're going to spend a lot more time and, ultimately, if you want a large capacity tank, it's going to "hang down" lower than this custom molded tank.
Why did we put this on the passenger side of the van when most RVs have the tank dump on the driver side? Primarily because the driver side cavities under the van on a Promaster are even smaller on the driver side because of the exhaust system. We wanted the highest capacity possible without compromising ground clearance.
Installation/Notes
The tank ships as part of a complete kit to assist for simple installation. The only things you'll need that are not included in the box are clear silicone sealant and a rivnut tool, such as this one, to install rivnuts which are used with supplied bolts to secure the tank/brackets to the van. There are 3x brackets (front, middle and rear). Each bracket has two bolt locations (one on each side of the bracket) for a total of 6x bolts. 4x of the supplied rivnuts can be installed into existing holes underneath the van in the floor structure. One of those existing holes must be enlarged. One of the bolt locations has a factory threaded insert (M8). The final bolt location requires you to mark and drill a 7/16″ hole for last supplied rivnut.
One the tank is mounted, you'll need connect the "dump valve assembly" to the 3″ outlet. We recommend you coat the outlet with clear silicone, insert the dump valve assembly and then tighten on the included 3.5″ hose clamp to secure the assembly.
The last step would be to plumb your drain lines into the 1-1/2″ female NPT inlet. Note that you determine the location of this inlet during ordering. You can use various tee fittings to allow more than one fixture to drain into the tank.
There are 1/8" brass breather vents at the top of each of the high points of the tank to allow the tank to fill completely in these areas. If the tank is overfilled these will also allow small amounts of gray water to escape the tank onto the ground. Please be careful not to overfill the tank. Overfilling the tank may result in gray water backing up into your fixtures or vent system. We highly recommend using some kind of tank monitoring system. Note, these small vents are not adequate for venting your drains, more information on that below.
Venting
In order for your drains to work correctly (drain well and not too slowly) and to allow for fast emptying of the tank when it's full, you'll need to provide adequate venting for the tank and your drains. We discuss this a bit in our plumbing video. We recommend adding a vent to each drain/inlet you have on your tank. You can also connect multiple drains to a single inlet that shares a vent if it works in your layout. Venting can be accomplished in many ways. Some installers will tee off a drain line (below the highest water level) and run this to a vent location. Others will dedicate a vent line to the tank with it's own inlet. Similarly, vents can be routed a variety of ways such as to the sidewall of your van using something like a horseshoe vent cover or through the roof with a roof vent cover. In some cases, such as for galley sinks, an "air admittance valve" but those are not adequate for shower drains in my experience.
Your Choice of Dump Valve
We offer three choices for emptying the tank. All three options are installed into the 3″ dump port that is built into passenger side rear of the tank.
Option 1: Standard 3″ Dump Valve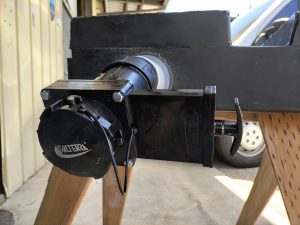 This is included in the base price and allows you to empty your tank using a standard RV-style sewer hose. Because of of the large, 3″ opening, the tank empties quickly. The dump valve assembly we include comes out from the tank toward the sidewall of the van for easy access to the gate valve. You see this valve assembly from the side of the vehicle but it does not hang down exceptionally low or stand out. See photos in the image gallery.
Option 2: Motorized (12 volt) 3″ Dump Valve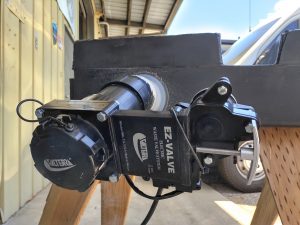 This upgrade is the same type of 3″ dump valve that works with RV-style sewer hoses but is motorized and includes a remote panel/switch for opening/closing the valve. This is the most expensive and premium option. Like the standard dump valve, when installed, it will be positioned near and visible from the passenger side of the van for access to attach a sewer hose.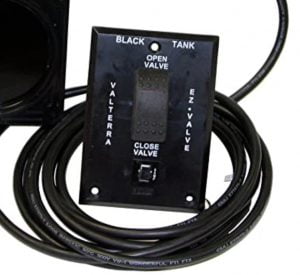 Option 3: Motorized (12 volt) 3/4″ Ball Valve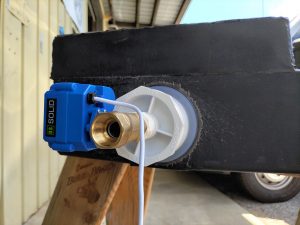 If you're looking for something that is a bit more "stealth" this may be a good choice for you. This valve assembly is smaller and does not go out to the sidewall of the van so it's not visible from the passenger side of the van. However, the outlet is only 3/4″ so emptying time will be slower. Also, instead of standard 3″ connection for a RV-style hose, this ball valve has a 3/4″ female NTP connection on the dump side so you either need to dump directly on the ground (in a location that is suitable for this) or connect up a garden hose to direct the grey water into a drain location. Because this connection is near the tank itself under the van, if you are using a hose, it will be more difficult to access.
Your Choice of Inlet(s) and Location(s)
We included 1x, 1-1/2″ female NTP inlet in your choice of seven standard locations (shown in the image below). If you have multiple drains, you can use a "tee" fitting to split this inlet or choose to have a second added to your tank at an additional cost.
All the fittings are spin welded.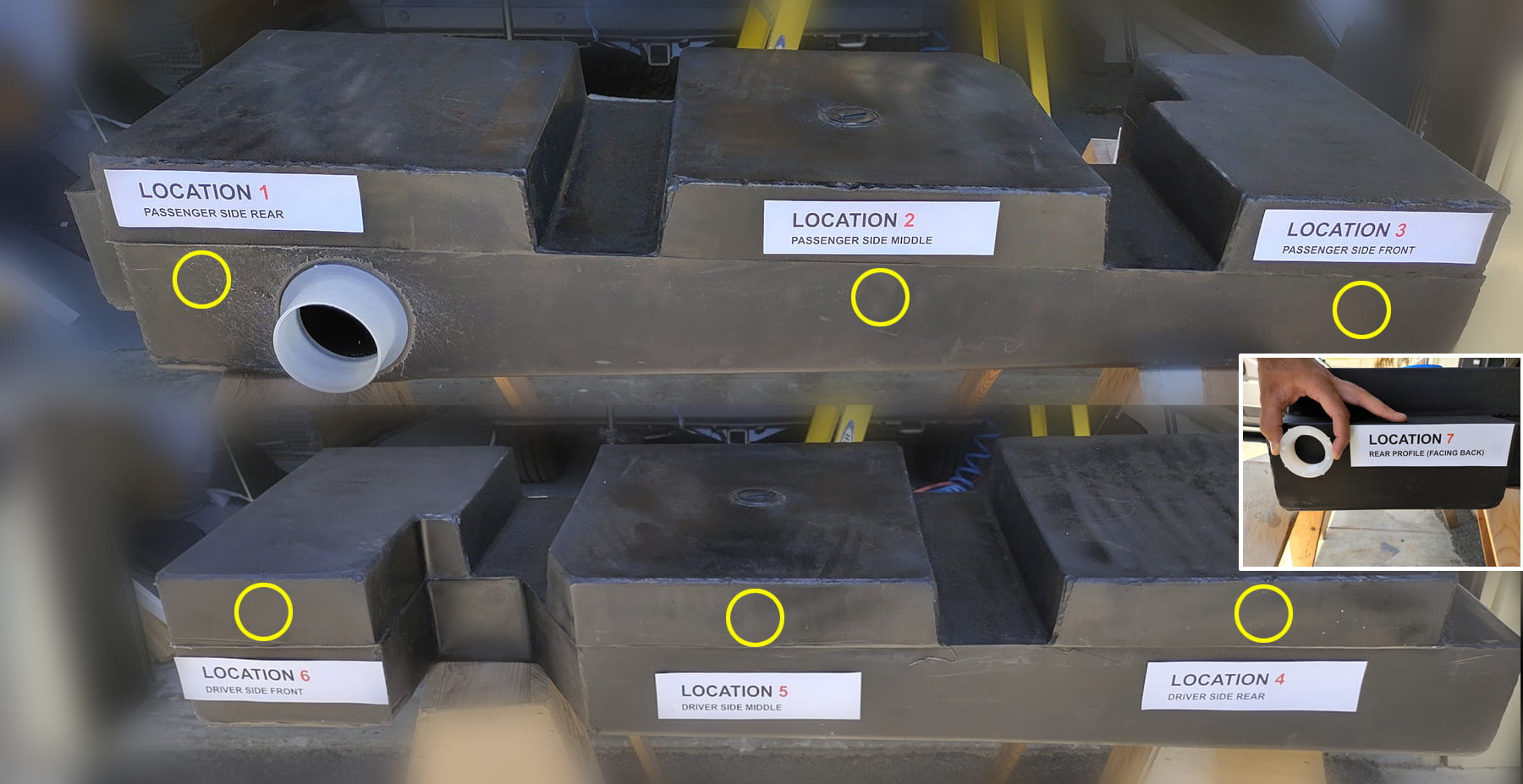 Dimensions

Location Of Tank Under Van