UPDATE – in October of 2021, Victron Energy released version 489 (xxxx489) of the firmware for MultiPlus inverter/chargers. According the release notes, if you use this firmware, "there is no need to use the VE.Bus BMS assistant anymore."
Below, in italics, are the notes regarding this, taken from the changelog file from Victron Energy.
Using this new firmware results in practically the same behaviour as previously when using the Assistant.
As soon as the Multi (or Quattro) sees the VE.Bus BMS, and the (new) checkbox called "Configured for VE.Bus BMS" is not checked yet, it will automatically configure itself.
The settings then auto-configured are:
The (new) "Configured for VE.Bus BMS" setting is set, meaning that it will no longer charge in case it doesn't see the VE.Bus BMS anymore. In more detail: it will go through passthrough when AC is present, and switches off if there is no AC BMS. This is a safety feature.
Battery type is set to lithium
Absorption voltage is set to 14.2V, Float to 13.5
Maximum absorption time to 60 minutes
Charge curve fixed (but reduced float is disabled, the settings "repeated absorption time" and "repeated absorption interval" are changed but ignored)
Storage mode is unchecked
State of charge when bulk is finished: 95%
Charge efficiency: 95%
Temperature compensation is disabled.
The recommended way to commission such system is to:
update the firmware
install and connect the VE.Bus BMS
unplug the VE.Bus BMS and wait for the Multi to switch to passthrough/switch off. This step ensures that the Multi has properly detected the VE.Bus BMS.
Reinsert the VE.Bus BMS.
Finished, or optionally connect with VictronConnect and make the rest of the configuration.
Related changes:
The VE.Bus BMS Assistant, when installed on this new firmware, will issue a warning, that it needs no longer to be installed. (It will be harmless if it is).
The ESS Assistant as well as some others, with integrated VE.Bus BMS functionality are updated and will work with both old firmware & new firmware.
---
I recommending using the VictronConnect app to program/configure your Victron MultiPlus inverter/charger. We detail how to do that in this post. So, you can go through that process and then come back here for one additional step required when using a VE.Bus BMS – the addition of an "assistant" for the BMS.
This BMS "assistant" is specifically for Victron lithium batteries using the VE.Bus BMS. It allows the BMS to control the MultiPlus inverting and charging. If you have a remote control panel it will work like normal but can be "overridden" by the BMS.
Unfortunately, at this time, you cannot add assistants with VictronConnect. Instead you'll need to use the older, VEConfigure app for Windows. However, just like configuring with VictronConnect, you'll use the same MK3 to USB interface for connecting your computer to the MultiPlus.
This video from Victron is a great overview to using VEConfigure and setting it up with your computer. I recommend checking it out before proceeding.
Once you're connected to your MultiPlus with VEConfigure you'll want to navigate to the "assistants" tab and then click on the "add assistant" button which will open a menu of available assistants. Choose the "VE.Bus BMS" assistant from the menu.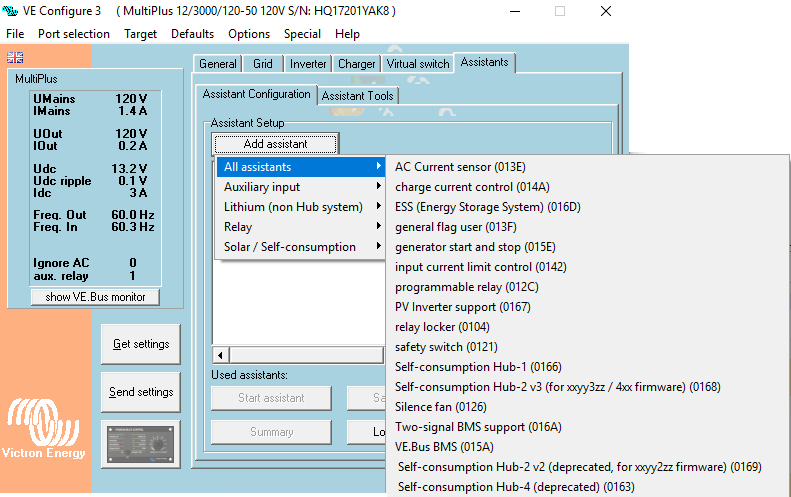 Next, you can press on the "start assistant" button and use the "next arrow" button to proceed through the screens as they are shown below.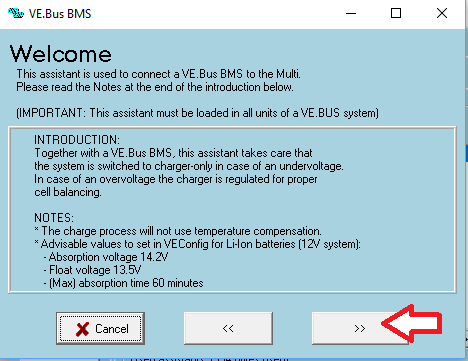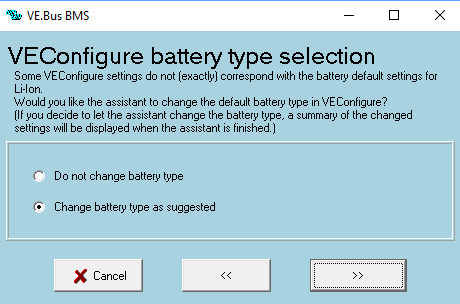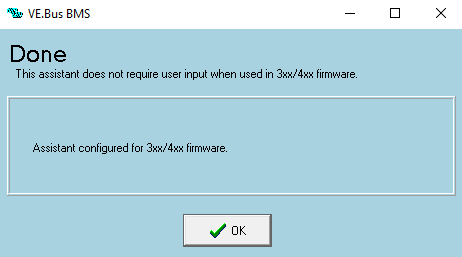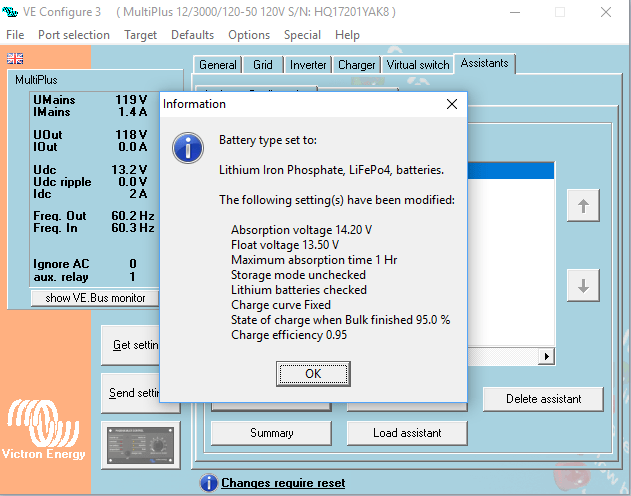 Once you receive that final confirmation screen you can dismiss it with the "OK" button and you're done!
Note, after you've added the BMS "assistant", the red "low battery" led will flash when the unit is powered on and won't work until it "sees" the VE.BMS on the VE.Bus. Also, you will not be able to use VictronConnect after you've added the "assistant" – instead you'll have to use VEConfigure.
FREE Camper Van Power System Resources & Wiring Diagrams
If you're confused about your DIY camper van electrical or solar system, you've come to the right place. We have tons of resources including blog posts, videos and detailed example wiring diagrams (see below),If you're really stuck, we also offer consulting and design services. Our "choosing a system" page offers some additional advice and includes an example load calculation that you can use.
Below are some of our example power systems for camper vans/RVs. The Victron-based systems all have a corresponding blog post, free detailed PDF example wiring diagram, and a corresponding discounted product bundle. Ultimately, you'll probably customize your system to your particular needs and perhaps combine ideas from one or more of the example systems.
Please consider purchasing your power system equipment from our store. Our bundles offer great pricing (yeah, better than Amazon), free shipping and you'll have access to expert support and you'll be supporting our ability to create more content!
Finally, there are a few things that we don't sell in our store (yet!) that you might need so we keep a list of these products in this Google Sheet of recommended camper van products.
We Appreciate Your Support!
We encourage you to shop our store. From unique products that you'll only find here to our favorite appliances and other road tested camper van parts. Many of our products ship for free and they all ship out quickly and we take pride in our industry-leading customer support. But, don't take it from us only, check out our customer reviews!