This post details how to install powerful, super off-grid capable camper van power system that uses a Nations secondary alternator paired with a Wakespeed WS500 regulator, Lithionics batteries and a bunch of Victron Energy equipment!
This is part of a series of posts and we highly encourage you to check out the others!
Since this post was first written in September of 2021 we've helped many customers install these systems and we have them in our own personal vans, which are truly incredible!
FREE Camper Van Power System Resources & Wiring Diagrams
If you're confused about your DIY camper van electrical or solar system, you've come to the right place. We have tons of resources including blog posts and videos, example wiring diagrams (see below), and even offer service and installation from our workshop in Sarasota, Florida. If you're really stuck, we also offer consulting and design services. Our "choosing a system" page offers some additional advice and includes an example load calculation that you can use.
Below are some of our example power systems for camper vans/RVs. The Victron-based systems all have a corresponding blog post, free detailed PDF example wiring diagram, and a corresponding discounted product bundle. Ultimately, you'll probably customize your system to your particular needs and perhaps combine ideas from one or more of the example systems.
Please consider purchasing your power system equipment from our store. Our bundles offer great pricing (yeah, better than Amazon), free shipping and you'll have access to expert support and you'll be supporting our ability to create more content!
Finally, there are a few things that we don't sell in our store (yet!) that you might need so we keep a list of these products in this Google Sheet of recommended camper van products.
Example Wiring Diagrams
We have two example diagrams available: one for a two-battery system (320 amp hours per battery – 640 amp hours total battery storage) and the other for a three-battery system (320 amp hours per battery – 960 amp hours of total battery storage). As you might guess, they're very similar. The primary difference is how the CAN bus for the batteries is wired up. In the 3x battery configurations we also use a second Victron Energy Lynx Distributor to connect the batteries in parallel to the system which you could also do with the 2x battery system. The parts list sheet details these differences as well.
We worked extensively with Victron Energy, Lithionics and Wakespeed to design a system that will work reliably and safely! However, electrical systems are complicated and we recommend that you either have your system installed by a professional or, if you do it yourself, to have it inspected by a professional when it's completed. Please use the information provided at your own risk.
If you'd like to see photos of these various components in "real life" you can check them out in this album – the captions describe what is shown in each photo.
Using Lithionics Batteries
The first thing to know is that need at least 2x Lithionics batteries running in parallel to full advantage of the massive charging current from the Nations alternator (over 200 amps at higher RPMS).
All lithium batteries have a recommended maximum (continuous) charging current as well as a maximum (continuous) discharge current rating. Below is this information for the Lithionics batteries used in this example system. You can see that the recommended charge current (highlighted in green) is 150 amps which is less than the alternator is capable of charging. By adding two batteries, you aggregate this capability for a maximum recommended charge current of up to 300 amps.
On the discharge (load) side of the equation, in most systems the inverter/charger is the biggest draw since it can power energy hungry things like microwaves, induction cooktops, 120VAC air conditioners, etc. In the example system we're using the popular Victron Energy MultiPlus 12/3000/120 inverter/charger. Taking another look at the specs for the Lithonics batteries you can see the recommended discharge is also 150 amps (highlighted in yellow). Meanwhile the MultiPlus inverter/charger can run loads greater than 3000 watts for long periods of time which is 230-250 amps depending on the load and the battery voltage at the time. So, once again, having 2x or more batteries in parallel gives you the performance you need.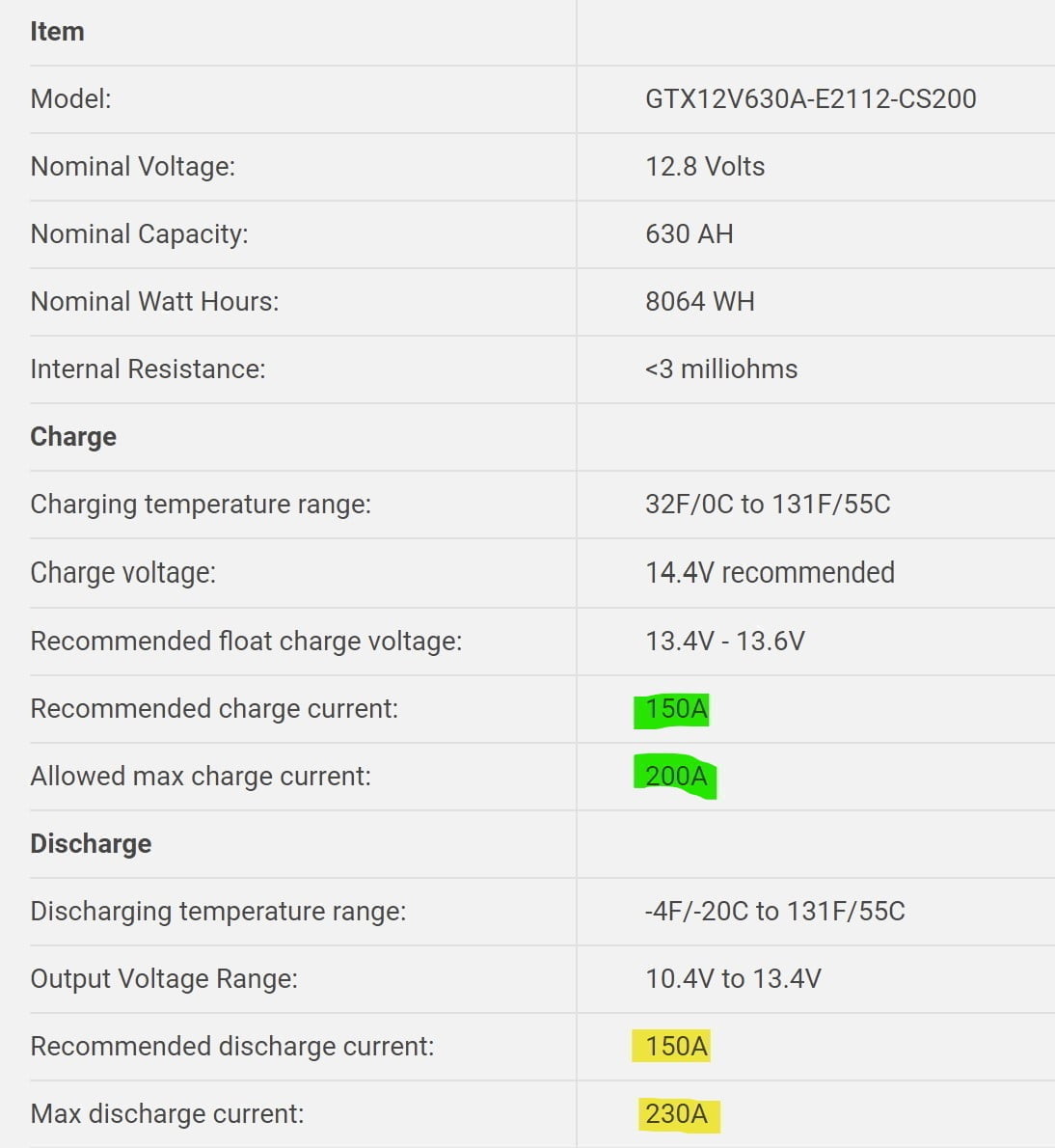 Important Installation/Use Notes
When installing these batteries into your electrical system, Lithionics recommends 4' (or longer) size 2/0 cabling from the battery terminals to your disconnect switch. Then you may use a minimum of 8' of 4/0 cabling for the rest of the pathway to a MultiPlus inverter/charger (from the battery switch, through the main fuse, to the Lynx Distributor (bus bar) and from the Lynx to the MultiPlus DC power in). Our example wiring diagrams call this out.
We then recommend using the manual disconnect switch as follows:
When going from "use mode" to "storage mode" first turn off the batteries from the system using your disconnect switch and then turn off the batteries themselves with the power switch on the batteries.
When going from "storage mode" to "use mode" you should first ensure that your battery disconnect switch is off, then you can turn on the batteries with the power switch on the batteries. Once you observe a solid LED light on the battery switch you can then turn on the battery disconnect switch.
This configuration and procedures will protect the battery from damage by the inverter.
If you are using Lithionics batteries with a Victron MultiPlus or MultiPlus II 12/3000/120, you should be aware these units draw the most current during "pre-charge", and require special consideration. You should ensure that you're using the latest firmware on the batteries (2.07 or higher). In addition, as of January 2022, Lithionics has updated their battery hardware to add an "internal pre-charge circuit".
If you're using two or more batteries in your system (as our examples show), it's important to differentiate the batteries on the CAN bus. By default, each battery will have the same "battery id" and "CANSA" which are 1 and 70 respectively. Think of these as their sort of address on that network. You can leave one battery as is, with the default settings but you need to change these addresses on the second (or third, etc.) batteries. This is very simple and this video shows how to do it.
Another cool feature of the Lithionics batteries is that they have a built-in heating system so that you can charge and discharge them in extreme cold temperatures.
About Main Disconnect/Battery Switch
The 2x battery example system uses the Blue Sea 9001e battery selector switch that has connections for two batteries. So, in this dual battery setup, you can choose between using/charging one single battery at a time or both in parallel. This is shown in the image below. Typically you'd probably want to use the "1 + 2" position that connects both batteries together but having the option to isolate for troubleshooting, repairs or even limiting how much energy you're using while having a "backup" battery are all useful.
The photo below illustrates the various switch positions.

It's VERY important that this switch is NEVER turned off while the vehicle is running and the secondary, Nations alternator is outputting current! If you do, you'll create the kind of "load dump" scenario we described earlier in this post. However, there are times that you want to put your van in storage or you need to work on the electrical system and use this battery disconnect switch. This is the reason we included a simple toggle switch that is wired inline with brown ignition wire. This effectively disables the secondary alternator charging. So, just remember to switch that toggle switch off before switching the main battery selector off. You might even consider putting a note or a label on the battery switch to remind you!
For the 3x battery example, we show a secondary Victron Lynx Distributor with it's integrated fusing becomes a more elegant (in our view) option to connect each battery up to the system in parallel. The Lithionics batteries have an integrated power switch that can be turned off – much like an appliance. When you do, the Wakespeed regulator will adjust accordingly "knowing" that one (or more) of the batteries is no longer connected via the CAN bus.
Configuring the Wakespeed Regulator
Once physically installed and wired up, the Wakespeed WS500 regulator must be configured for your particular batteries. During this time you can also update your Wakespeed unit to the latest firmware.
If you're not purchasing the Wakespeed Regulator from us that comes pre-configured, you'll need to configure it for the particular batteries you'll be using. It's worth mentioning again that Wakespeed strongly recommends you use one of the battery systems that is listed on their technical page. On that page, in the "WS500 Configuration Files" section of the table, you'll see links to both a PDF wiring diagram and .zip file with the configuration files for each battery system they have tested and support. The .zip files also include the configuration utility itself.
Once you have downloaded those files you'll need a Windows computer connected to the USB port on the Wakespeed WS500 (you'll need to remove the cover to access the port). From there you'll simply double click the "update.bat" file inside the .zip file you downloaded and follow the prompts on the screen. There is further detail in Wakespeed's Configuration Utility Guide (PDF) but it's a pretty straightforward process. Most installers will only need to read through the first 7 pages in the guide. The remaining pages of the guide are for customizations and configurations for battery systems/situations where Wakespeed has not provided the battery-system-specific .zip file of configuration data.
You can also configure the Wakespeed WS500 with an Android device. Simply search for "wakespeed" in the app store and install. Android devices can connect to the USB port on the Wakespeed (front panel must be removed) using an OTG cable like this one. Once you have the app and are connected to the Wakespeed you can select your alternator and battery combination from the menu and the app will handle the rest!
Powering Up and Testing
Turn on the batteries using the power switch on the batteries themselves.
Power up the DC system by turning the main power switch on (if you're using our recommended Blue Sea 9001e switch you'll use the 1+2 position).
Confirm that the small loads like the Cerbo GX are powering up.
Turn on the MultiPlus inverter/charger with the power switch on the unit itself.
When the Cerbo GX running, try controlling the MultiPlus from the Touch 50/Touch 70 screen (switching modes from off/charger only/on, etc.). If you have issues with this, make sure the VE.Bus connection between the MultiPlus and the Cerbo GX is correct (RJ45 UTP network cable) and you're using a manufactured (not hand-crimped) cable.
Confirm that you are getting 120 volt AC to your load center (from the AC output 1 terminals on the MultiPlus).
Confirm that you are getting 12 volt DC to your load center.
Connect to your Lithionics batteries via Bluetooth using their app and set the "battery id" and "CANSA" as detailed above in the batteries section of this post. This is important so that each battery has a unique "address" on the CAN network.
Test the secondary alternator by starting the vehicle and then turning on any switch that may be wired into the "brown, ignition trigger wire" of the Wakespeed WS500 harness. Once the vehicle is running and the Wakespeed is powered up, you should see the LED light on the Wakespeed flash an orange/amber color indicating that it's being controlled by a BMS. In this case, that's the BMS inside the Lithionics batteries.
Confirm that you're getting a charge current from the alternator by looking at the battery monitor (SmartShunt) information on the Touch 50/Touch 70 connected to your Cerbo GX. Note, if the batteries are close to full this will be a small amount of current necessary for an absorption charge. You can discharge the batteries using a heavy load such as a heat gun or similar high-wattage appliance in order to see the alternator's output during a bulk charge.
Configure your MultiPlus to set the correct charge profile for your Lithionics batteries. We have a blog post on that process.
Test your shore power input to make sure that the MultiPlus syncs to the incoming 120 volt AC power and that the internal transfer switch transfers the loads to the shore/utility power. You'll hear an audible click.
Configure your Cerbo GX.
We Appreciate Your Support!
We encourage you to shop our store. From unique products that you'll only find here to our favorite appliances and other road tested camper van parts. Many of our products ship for free and they all ship out quickly and we take pride in our industry-leading customer support. But, don't take it from us only, check out our customer reviews!