Description
We Fully Support DIY Installations! Unlike many authorized Webasto distributors, Vanlife Outfitters fully supports DIY installers. Our entire team has been trained to become Webasto certified "experts". Together with our distribution partner, we maintain a wide range products and replacement parts in-stock. If you experience a problem with your Webasto unit within the warranty period, we will work with you to determine the cause of failure and will either attempt to give instruction on how to correct any faulty workmanship or supply a replacement part. If a replacement part is needed we will send you the part immediately from their stock at no charge so that you can get up and running as quickly as possible. Of course, we rely on you to return any faulty parts in order to be reimbursed for the warranty repair.
We encourage you to watch our detailed Webasto heater installation and tips & tricks video.
If you're tempted to purchase your Webasto heater at a ridiculously low price from other online retailers, you should be aware that these are often European origin kits that are not compatible with all the North American parts and do not include some important parts. We have an extensive blog post about this here.
You may also be interested in our video comparing the Webasto Air Top 2000 to the EVO 40 heater.
For your safety we recommend that you install a carbon monoxide detector in your van anytime you have any fuel burning appliance like a Webasto heater or propane cooktop. They are widely available. We sell this combination CO2 and propane detector.
This kit comes with a genuine Webasto Air Top 2000 STC gasoline powered air heater and three unique "add-ons" for a complete installation in a camper van!
The heater has an output range of 3070 BTU to 6800 BTU (1 kilowatt – 2 kilowatt) and can provide heat for up to 22 hours on just 1 gallon of fuel!
You'll have peace of mind with a Webasto-backed two years or 2000 operation hours warranty.
Webasto Air Top 2000 STC dimensions: 12.24" long x 4.72" wide x 4.72" tall.
The Promaster/Sprinter Webasto Kit Includes
Base Webasto Air Top 2000 STC Gasoline Heater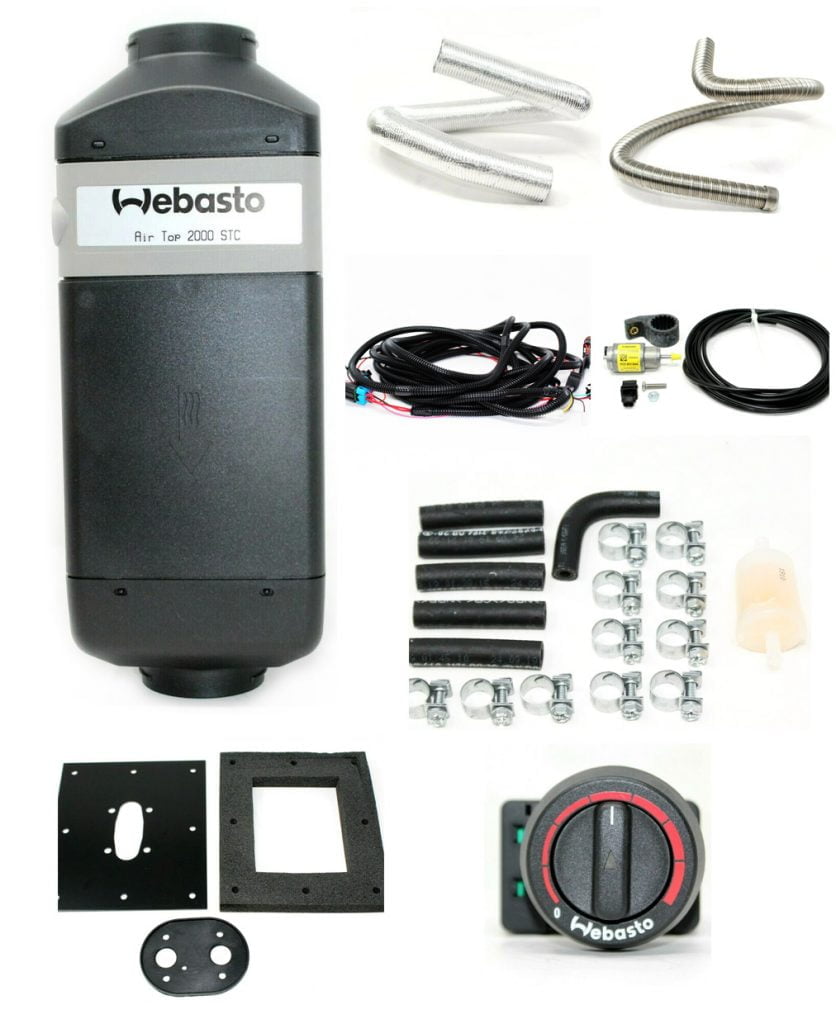 Heater unit
Rheostat controller
Universal fuel tank standpipe
Fuel pump with wiring harness
Fuel line with required fittings and fuel filter
Mounting plate with foam gasket and bolts
Wiring harness
1 meter (3.2 feet) flexible stainless steel exhaust hose
.5 meter (1.6 feet) aluminum combustion air intake hose
Installation/operation manual
Note: no ducting or louvers/vents are included with this kit. If you need ducting or vents, check out our ducting/vent configuration tool!
Air Intake Noise Suppression Add-On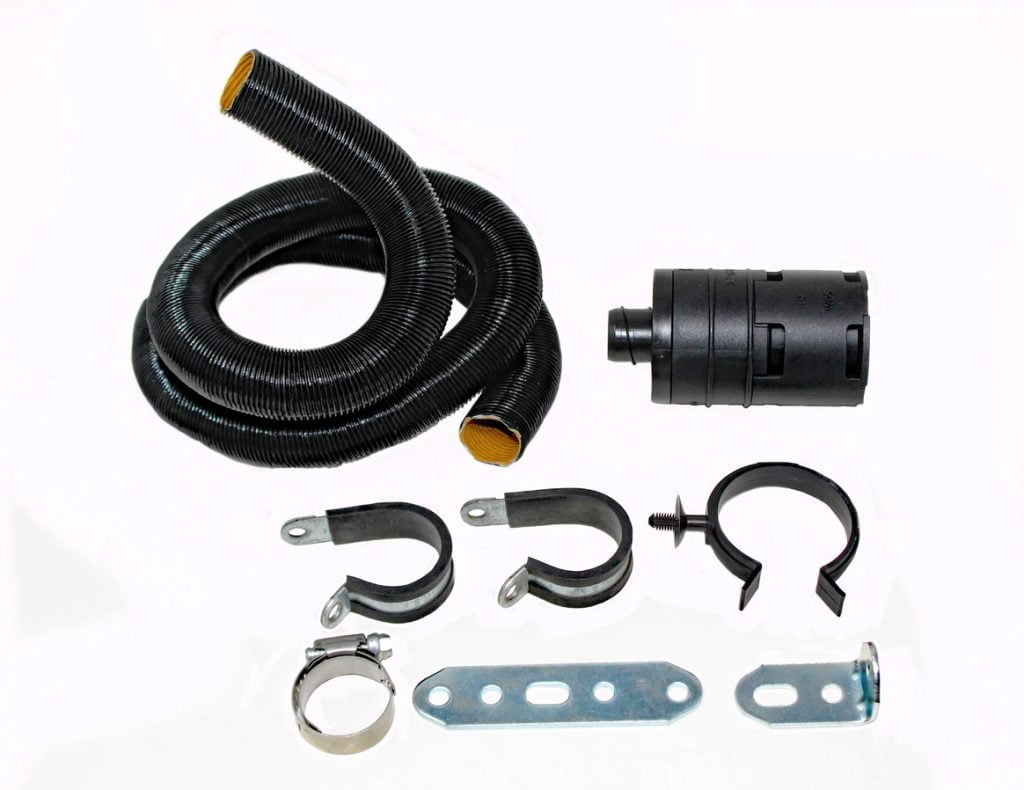 Combustion Air Noise Suppression Add-On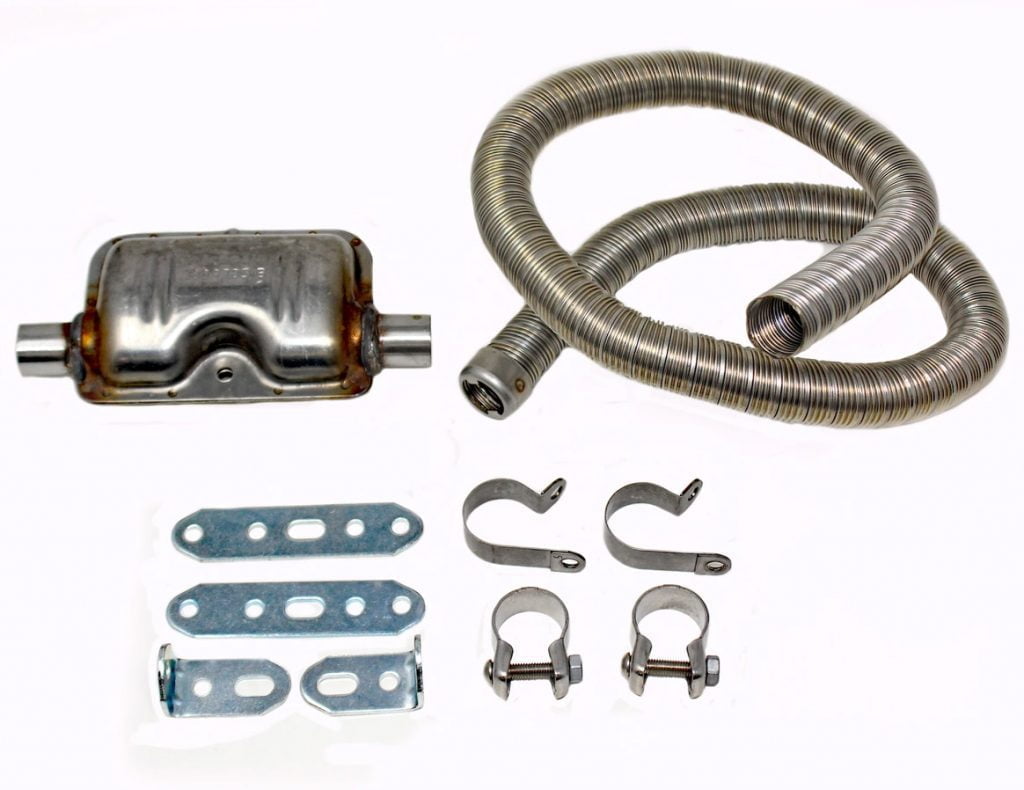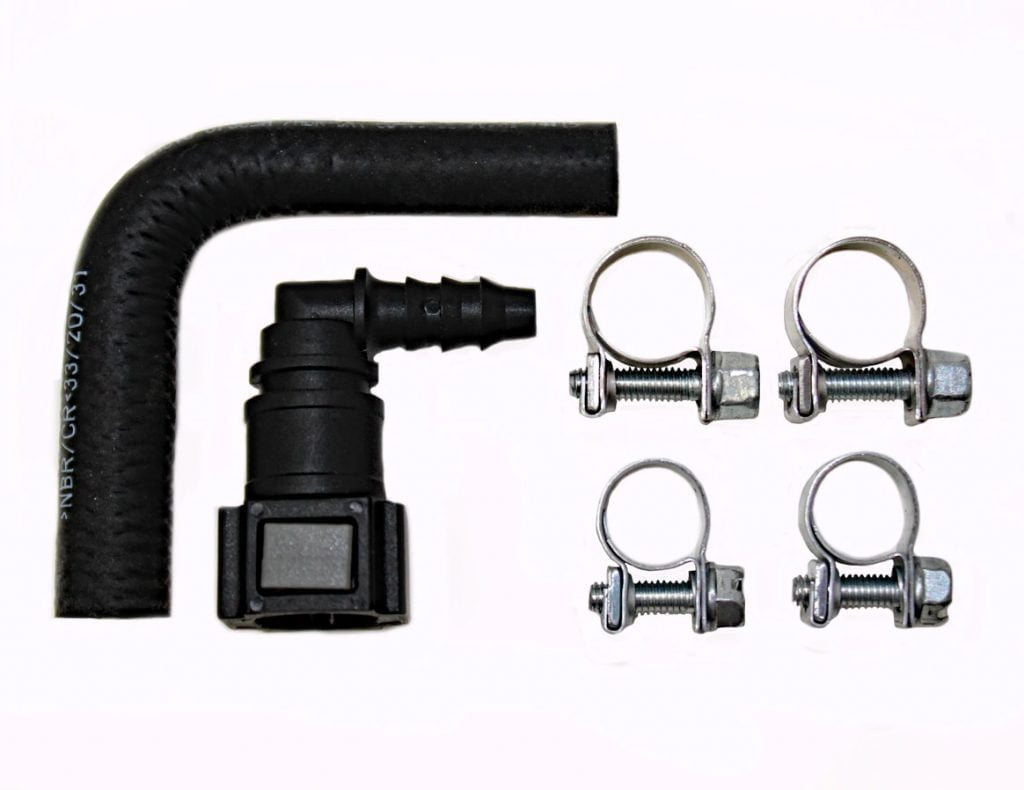 Genuine Webasto push lock fuel tank adapter for Promaster or Sprinter vans that allows you to easily tap into the auxiliary fuel ports built into the vehicle.
Elbow adapter to connect the barbed end of the push lock to the standard size Webasto fuel line supplied in the heater kit
Clamps to secure both ends of the elbow with a few spares included
Note, Mercedes stopped offering an auxillary fuel port on many gasoline Sprinters in 2019. Please confirm your vehicle has an auxillary port. If you don't have an axillary port, you can install the fuel standpipe (pickup) that is included with all of the Webasto heater kits we sell. This requires lowering your fuel tank, removing the fuel-sending unit, drilling a hole in the sending unit, and installing the standpipe. 
High Altitude Information
This Air Top 2000 STC is Webasto's smallest heater which is a great form factor for a camper van and is generally plenty powerful to keep you warm (2 kilowatt heating capacity). However, the small burner on these heaters is susceptible to excessive carbon build up - particularly the gasoline models. Diesel fuel is more forgiving in this context. Webasto has designed this heater to work optimally up to 4,900 feet altitude. If you're going to be spending a lot of time at higher elevations you should consider using the larger Air Top EVO 40 heater (4 kilowatt heating capacity) which is physically larger and therefore has a larger burner chamber which enables it to be used up to 7,200 effectively without the risk of carbon buildup issues and has "automatic" altitude adjustment capability. It's worth noting that Espar does not sell at 2 kilowatt heater - they're smallest gasoline heater is the B4 which is a 4 kilowatt heater that is similar to the Webasto EVO 40. So, while the Air Top 2000 STC will work at higher altitudes for shorter periods of time but Webasto does not recommend it and, if you do, you should run the heater at "full load" (turned up all the way) when you return to lower altitudes for at least a few hours in order to try to clean out the burner chamber. By the way, the EVO 40 uses the exact same mounting plate and "bolt pattern" for installation. So, if the larger form factor fits into your installation location you can put an EVO 40 into the same place as an Air Top 2000 STC.
New: Professionally, High Altitude Adjusted Webasto Heaters
Starting in October 2022, we began selling professionally pre-adjusted Air Top 2000 STC heaters that configured for up to 6,400 feet in elevation. Please check out this post for more information and links to those products.
Want to learn more? We recorded a one hour video interview with a Webasto tech that has a lot of great information you can watch the full video or use this link to jump to the part of the video where we discuss using an Air Top 2000 STC at altitude. There is also a lot of information on the correct way to perform an altitude adjustment on an Air Top 2000 STC heater in this blog post.
Installation Guide
Other Parts You Might Need For Your Installation
We also sell a variety of helpful installation parts including ducting to mounting plates. If you plan on having more than one vent/louver from your heater's hot air outlet, you may want some "T" or "Y" fittings or ducting. This PDF file illustrates all the parts available from Webasto for this purpose which we can special order for you and you can check out our ducting/vent configuration tool.