There are lots of great apps for vanlife that I have recommended but the Vanlife App is becoming my favorite and may replace them all soon enough! It's free and available for iOS or Android devices.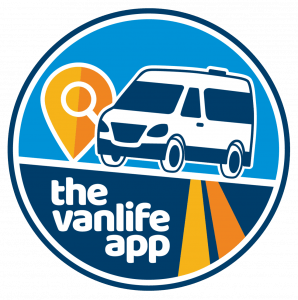 The Vanlife App has been around for a few years but has really hit its stride recently with the latest versions, offering tons features and a great user experience. Many of the other similar apps out there tend to be more targeted to RV'ers and most have outdated-feeling user interfaces.
I'll share a few things that I love about the app and why I think you should download it and sign up! By the way, this is not a sponsored post. I am genuinely excited about the app and its potential to get even better.
Everything In One Place
As you read through this post you'll see all the things the app can do – from finding a campsite to messaging people to making connections on the road. Having all this functionality in one single app is a game changer and so much easier and more fluid than jumping around a bunch of different apps.
Community-Centered
The Vanlife App is designed from the ground up to support the vanlife community. It was founded by Breanne Acio (@theladiesvan) and Jessica Shisler, Ph.D. (@van.there). Yup, it was literally created by vanlifers for vanlifers and you can see this DNA reflected in the app as you use it.
So, while you can certainly use the app just to find a place to camp or fill up your water tank, the real magic is how it allows you to make connections on the road.
Connections
Using the connections feature you can search for people you might know and add them as a connection. Once you do (and they accept), you can message them from the app or even create "groups" of people similar to how you might with other messaging apps like WhatsApp. Every user can add things like their interests, social media links, vehicle type and even travel style (part-time, full-time, dreamer, etc.) to their profile.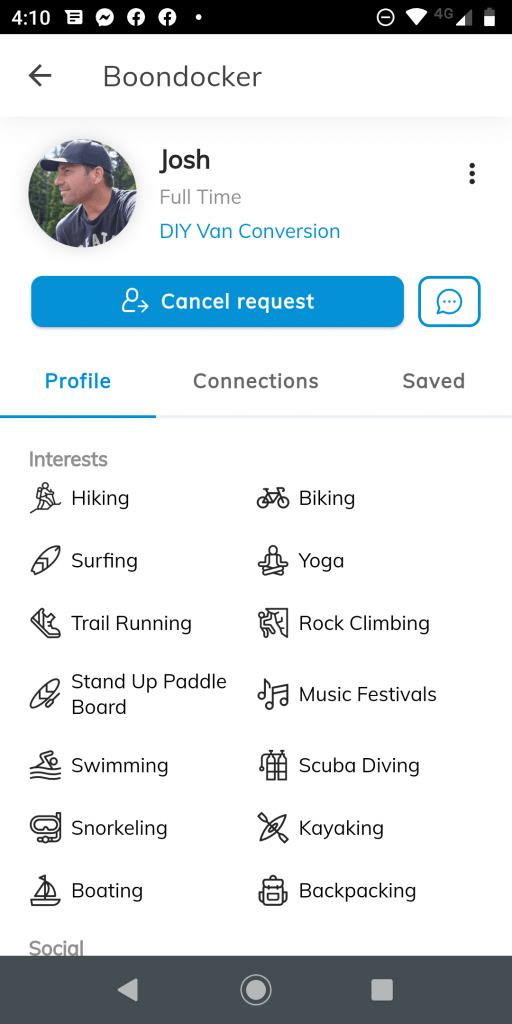 Near Me
One of the most unique features of the Vanlife App is the ability to find other vanlifers in the area and, in turn, allow yourself to be "discovered" by others. By default, when you create your account you're only discoverable to your connections (the people you've already connected with) but you can adjust this to be completely private or discoverable to anyone on the app.
Your initial geography is set to your current GPS location but you can search/browse other areas. If you're in an area with other "discoverable" vanlifers, you'll see an orange button at the top right of the interface that shows the number of these individuals ("3 People Nearby" for example). If you press on that button it will list those folks and you can review their profile, send them a message or request to add them as a connection.
Best of all, this feature isn't limited to your present location. Most of us are on the move so it's great to see who might be around where you're heading. As you explore areas on the map for camp sites or use the other features, you also have the ability to see who else is vanlifing it around there.
For many of us, meeting interesting, like-minded people is a highlight of the lifestyle and this feature creates tons of opportunities for that.
Gatherings
Another community-centric feature I'll highlight is the ability to add a "gathering" and promote it through the app. Unfortunately, we're still in the midst of a historic global pandemic so this functionality doesn't seem to be getting a lot of use but I can imagine it being amazing in the post-Covid future – from small impromptu gatherings for vanlifers who find them in the same place around the same time to epic gatherings where the larger tribe comes together.
In the ghastly meantime, they are organizing virtual meetups on the first Monday of every month.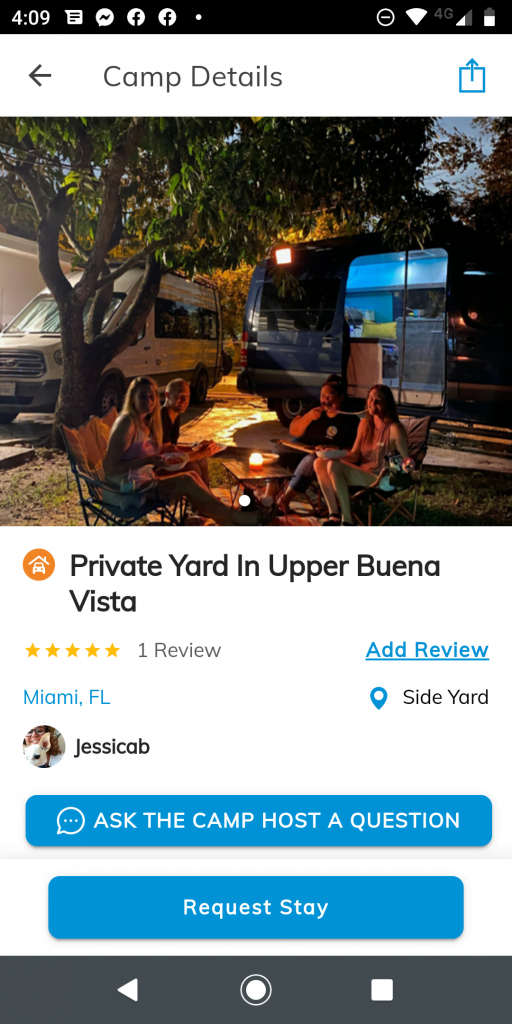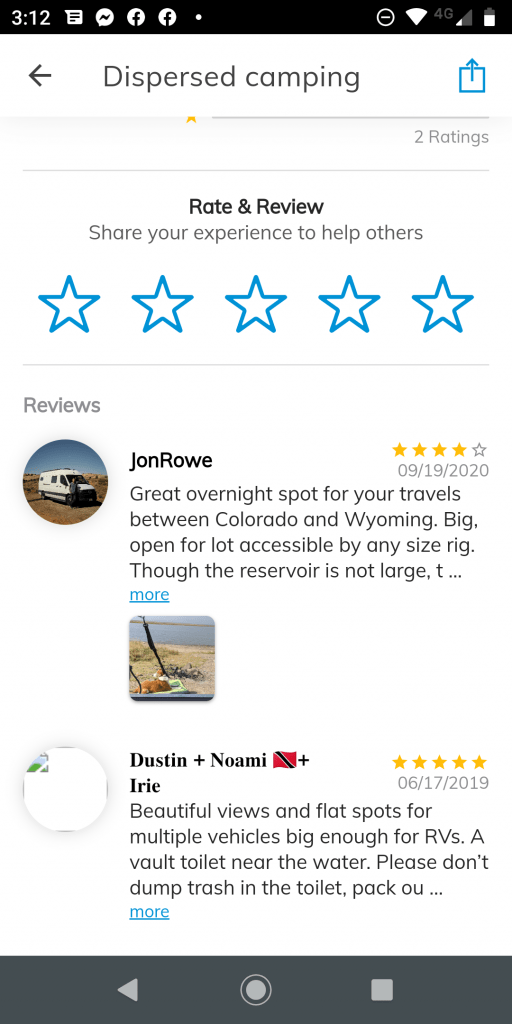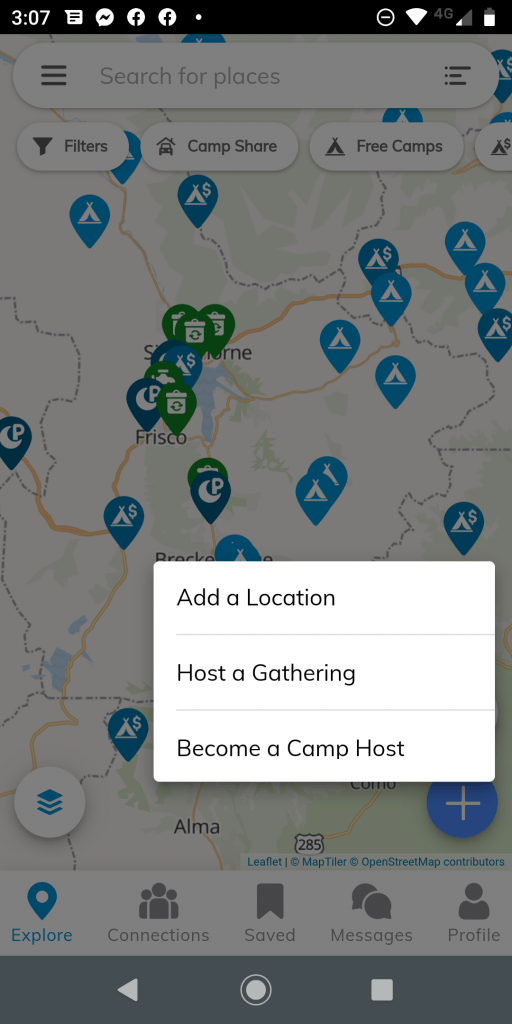 Finding What You Need
Of course, finding a place to camp is an essential feature and the Vanlife App does this very well. In most places I've searched there were at least a few spots and the majority of them were free overnight boondocking spots, which is my preference. Camp sites are identified on the map view with clear icons that vary based on the type of spot (overnight parking, free camps, paid camps, etc.). You can get a quick overview of the spot by pressing on the icon or dive into the full details by pressing on the overview bubble. The details for each listing include the features such as water station or showers as well as reviews and, in many cases, info on the all-important cellular data connectivity/strength. You can also save/bookmark listings for easier access or trip planning. Any saved listings appear along with places you've reviewed or have history with when you press on the "saved" button.
I also love that when you press the "get directions" button it gives you a choice of which app you'd like to use (Google Maps, Waze, Lyft or simply copying the GPS coordinates). I often find myself preferring Waze in some areas or circumstances and Google Maps in others.
Finally you can "share" the listing with others through email/etc. that includes a special link that will open that listing if they have the Vanlife App, which is really helpful when planning camp spots with others like your traveling companions.
Not Just Camp Spots
In addition to places to camp, you can use the Vanlife App to locate all sorts of other things you might need on the road including water fill locations, propane, dump stations, trash/recycling areas and more. Each of these types of listings have their own icon so it's easy to scan the map or you can filter what appears by type (i.e.: free camps only) or by the specific utility you need (i.e.: wi-fi, laundromat, dump station, etc.) and more.
Camp Shares
Another really awesome feature of the Vanlife App is the Camp Share directory. If you have a place to host someone (your driveway, etc.), you can add that spot to the directory as a Camp Share. When you add your listing you can describe the place, what types/sizes of vehicles it can accommodate, add photos and you can even choose to charge a fee for that listing similar to listing your house on Airbnb. The app takes care of all the reservations and payments making it super easy for a host to monetize their spot if they choose. This feature is very new at the time I'm writing this post but the Vanlife App crew tell me that over 70% of Camp Shares are free!
I love the Camp Share feature because it opens the door to so many more camp sites in interesting places where there may not normally be much available and it's yet another opportunity for building community and meeting each other.
Sustainability
I am grateful that the creators of the Vanlife App share my values of vanlifing respectfully, sustainability and leaving no trace. In their own words they are committed to "making vanlife synonymous with sustainability through education, financial contributions and action" and "as a Public Benefit Corporation, a portion of all sales are donated to non-profit sustainability initiatives." In my opinion these values are critical to the vanlife movement and all the amazing people in the community. We hope to support their efforts and continue to work toward these common goals.
So, Please Sign Up & Share The Love
One last thing… all the "data" in the app is user generated. From your individual profile to the camp spots and reviews all the way down to where to find a toilet or some water. Because of this, the more we all use the app and contribute the better it will become. So, I encourage you to check it out and share!
We Appreciate Your Support!
We encourage you to shop our store. From unique products that you'll only find here to our favorite appliances and other road tested camper van parts. Many of our products ship for free and they all ship out quickly and we take pride in our industry-leading customer support. But, don't take it from us only, check out our customer reviews!