"Sometimes when you're in a dark place, you think you've been buried…But actually you've been planted."
Are you considering a switch to vanlife but feel overwhelmed by the preparation, cost, and lifestyle changes? Maybe you're not 100% sure if vanlife is really for you. I mean it seems cool on Instagram and youtube, but maybe you'll hate it? My advice: don't let these concerns hold you back! The truth is, you may be more ready than you think. For me, vanlife has been a period of tremendous personal growth and I'm thankful that I decided to do it. I would have so many regrets today if I used any of the reasons I had NOT to live in a van. Many people assume they need a fully-equipped, expensive van and a digital nomad lifestyle to begin vanlife, but this is not the case. Some may think they need to be a professional contractor to complete a DIY van build, this is also not the case. In this post we'll talk about four things that you can do to kickstart your vanlife journey!
Before we talk about things to get you started sooner, let's talk for a minute about four things that might be holding you back.
Budget
Maybe your budget isn't big enough for your dream van. Consider simply starting in a less expensive van or car camping while still working your normal job. This will actually help you save money for your dream van and life on the road. We will discuss that in greater detail below. You can always get your dream van later once you've confirmed that vanlife is for you.
Friends and Family Don't Approve
One of the biggest hurdles for me was all my friends and family trying to talk me out of it. You see, at the time I owned a business that was making a lot of money and I had a pretty cushy life, so my closest friends told me I was a fool to walk away from my business. But for me, I valued freedom and living a full life over making money and living for the weekend (or waiting for retirement). That was six years ago in Miami. A lot of people back then (and in that part of the country) didn't understand what I was doing. Vanlife is widely accepted now and your friends and family might actually be more open to supporting the idea now. Regardless, if you feel called to the lifestyle, ignore everyone else's opinion and live your life the way you want. Ultimately the only person who can live your life is you and life is too short to not listen to your heart.
You Aren't Sure if Vanlife is Right For You
We're going to talk about ways to figure this out in the list below, but just know that if you feel called to vanlife for whatever reason, then that's probably a sign that it's right for you. The vast majority of people look at vanlife and are unwilling to give up their comfort for freedom. But there is a small portion of people that look at living in less than 80 square feet and are intrigued at the possibilities. If you're reading this blog post, or if you've gone down the YouTube "Vanlife Rabbit Hole", then you're probably one of the latter.
You're Concerned About Safety
This shouldn't be a concern, there are many ways to stay safe on the road. I personally have never had any issues and don't know anyone personally who has. Obviously, you're driving your home, so you'll need to drive safely. As far as crime, I don't think it's much of a concern, even for a single female. We've written another blog post all about how to stay safe on the road. There was a story in the news during the pandemic, but honestly that had almost everything to do with a domestic dispute and virtually nothing to do with vanlife.
Hopefully, those suggestions get you over the decision hump. If so below is a list of four things you can do to see if vanlife is right for you before fully committing to a DIY Van Build or dropping your life savings on your dream van.
1. Rent a Van (Or Better Borrow a Friend's Van)
The first thing you should do is rent a van for a weeklong trip (a weekend just isn't going to cut it). Anytime someone messages me asking for advice, I tell them to rent a van for a week or a month if they can afford it. There are a lot of people who went out and built or bought vans during the 2020 Covid pandemic only to realize they weren't cut out for vanlife. They could have saved themselves a lot of time and money if they had just rented a van for a weekend or more. There are many van rental companies out there and there is probably a rental van company in most parts of the country at this point (Native Camper Vans and Cabana Van are two big ones companies I know of). Even local van builders are getting into the rental game. There are also national websites like GoCamp and Outdoorsy where you can find people renting their camper vans (not unlike Airbnb for camper vans). If you can't afford it, see if you can borrow a friend's van or "van sit" when they aren't using it. They might say no initially, but at some point, they might change their mind and you'll have planted the seed. Be patient.
2. Build or Buy a Cheaper Rig
You can start your vanlife adventure right now by building a simple, cheap van and living in a friend's driveway while keeping your regular job. You can buy a cargo van and just throw a mattress in the back. You could even buy a couple of cheap dressers at the thrift store for cabinets. Some things can even be sourced from IKEA, check out this blog post. It may not be super comfortable at the beginning, but you can make modifications as time goes on. If you're intimidated about building a van, there are a ton of free resources online such as YouTube and our blog right here at Vanlife Outfitters (shameless plug). You can also skill share: Maybe you can do social media management for a local carpenter while he helps teach you how to use a saw. If the DIY route isn't your thing, you could also buy an older model conversion van that's already partially built out and just needs some TLC. They aren't the sexiest things in the world, but I've seen some people make them look really cool and bohemian inside. There are a lot of really cool older vans on Facebook, Craigslist, etc. that you can get into right away and fix them up to match your style and vibe.
3. Attend a Gathering
Attending vanlife gatherings and talking to real people who are living in vans is another great way to get insights that you just can't experience from an Instagram post. It's important to connect with like-minded individuals and get a feel for the lifestyle. Ask them what it's really like living out of a van and any tips or advice they have. In my experience, everyone you meet at gatherings will be supportive and willing to share their experiences and advice with you. This way you'll get an honest representation of what vanlife is all about…not what you see on social media. The important thing is to find and join the community (no one ever said you have to own a van to join the community) and really make sure it's for you. One of my favorite gatherings is the one Vanlife Outfitters produces called Vantopia Florida (yet another shameless plug).
4. Car Camp
Car camping is camping (or even living) out of your car or even a tent by your car. Car camping should not be confused with living out of your car (more on that later). You can try car camping (or tent camping) to see how you enjoy a simpler, more minimalistic nomadic lifestyle. After a couple weeks or months of car camping, living in a van will seem luxurious I can promise you that. Car camping can really only be viable if you have a campground or park that allows camping where you live (or close enough to where you live). Living out of your car can be difficult or pretty extreme for a lot of people, and I don't recommend it for most people. Unless you have a true camping solution, living out of a car will be very difficult. That being said, I know a lot of people who live out of their car in urban environments and are thriving. They work in the service industry, they shower at the gym and they save A LOT of money over a few months and spend the rest of the year traveling. I myself also own an AWD Honda Element that I've converted into a car camper. I use it when I want to get away for the weekend and go into rougher terrains that the van just can reach. Sometimes having a simpler setup with less things to worry about makes life more enjoyable. Having something more capable allows you to have more freedom, while sacrificing some comforts of a van. As you can see from the image below, I can get by with a basic build-out of the interior of a platform with storage beneath. I get by just fine with a Jetboil Genesis Basebcamp cooking system, a Goal Zero Yeti Portable Power Station to power my entire camper, a Dometic GO Hydration Jug and a Dometic GO Hydration Faucet. Not in the image is my CFX3 35 Powered Cooler for keeping my groceries refrigerated. I have everything I need except heat and air conditioning. I have vents and a fan for hot days and when it's cold, I break out my Nemo Forte Sleeping Bag and double up on the socks. You don't really need much more than that. Everything else is just varying levels of comfort. Your level of comfort will be dictated by your preferences or your budget. Some people look at it like this: For each month you car camp, you can save about $500 to $2,000 in rent. If you car camp for a year, you'll be able to save between $6,000 to $24,000. Two years and that balloons to $12,000 to $48,000 (more if you invest your savings). At that point, you could sell your car camper and take the proceeds along with your savings and buy or build your dream van. So you see, getting started is not that difficult, but getting past the mental hurdle of how to get started can sometimes be the biggest obstacle.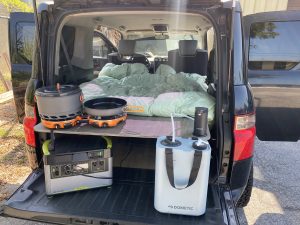 In Conclusion
Once you actually start living the vanlife, you will discover new ways to make it work for you. For instance, reducing your monthly spending while increasing savings will go a long way in ensuring financial stability on the road and saving up for your dream van. With more time spent outdoors, you will become more productive and find opportunities to meet other remote workers and make vanlife friends.
So don't let the fear of the unknown hold you back from the adventure of a lifetime. Start small, make adjustments along the way, and see where vanlife takes you. The freedom, sustainability, and sense of community that come with vanlife are waiting for you.
When you're finally ready to live the life of your dreams and are interested in becoming part of the vanlife community, Vanlife Outfitters has a ton of free resources to get you started. From Blog Posts to Educational Videos to Wiring Diagrams, etc… Vanlife Outfitters makes DIY building a camper van much less stressful and overwhelming. Sifting through the endless selection of van build products can be overwhelming. It's difficult to know which ones are good and which ones aren't. We've also carefully curated a store full of our recommended products so that you can buy with confidence knowing that these are road-tested and installed in vans of experienced vanlifers and camper van builders.
We Appreciate Your Support!
We encourage you to shop our store. From unique products that you'll only find here to our favorite appliances and other road tested camper van parts. Many of our products ship for free and they all ship out quickly and we take pride in our industry-leading customer support. But, don't take it from us only, check out our customer reviews!