Description
If you're looking for a way to run a powerful compressor-based air conditioning unit while off grid from your batteries, this is the perfect solution! It installs onto your van's roof just like traditional RV air conditioners but is vastly more energy efficient. In fact, this Nomadic Cooling AC uses less than half of the electricity compared to a traditional rooftop unit. Most rooftop air conditioners require 120 volt AC power to operate. Normally this is provided by shore power or a generator. In some cases you can run a standard unit from an inverter but inverters often struggle "starting" the compressor. In contrast, the Nomadic Cooling air conditioners use 12 volt DC power so it can run directly off your 12 volt battery bank without an inverter. We highly recommend using lithium deep cycle batteries with this unit.
Nomadic Cooling 12 volt air-conditioners are very quiet compared to traditional 120 volt air conditioners (60dBA with the fan at maximum speed) and they are nearly completely free of vibration.
12V Battery Powered Rooftop Mounted Air Conditioner
Voltage: 12V  (Max power consumption tested over 100 Fahrenheit)
100 Amp Compressor 
Eco Mode: 35A-55A @ 85 Fehrenheit
Powerful Mode: 65A Max Cool @ 85 Fahrenheit, 100A Max Cool @ 100 Fahrenheit
Cooling Capacity: 11,830 BTU
Net Weight: 27.69kg 61.05lbs
Size: 35.5 X 32 X 7  (dimensions for installation)
Opening Size: 14×14
Noise Volume: 60dBa
Refrigerant: R-134a @ 600g
Features
Easy installation – if you have an existing vent fan or air conditioner, this will fit over the same, standard-size 14″ x 14″ opening.
This is a stand alone air-conditioner. You do not need to connect to the engine to operate the air-conditioner.
All Nomadic Cooling air-conditioners are non-polluting, and highly efficient units.
All Nomadic Cooling air-conditioners operates at or below 60dBA. Plus, the added benefit of vibration free operation.
Intelligent microprocessor control system, allows the user to set the temperature based on a desired temperature.
Includes multiple built in protection functions such as, pressure alarm, power high/low voltage, motor over-current, and motor temperature protection.
Eco Mode should be the default operation type on a Nomadic Cooling air conditioner.  Powerful mode should only be used for short periods of time for maximum cooling, as powerful mode has increased consumption of energy.
Air Conditioner Includes
1x : 12V Air Conditioning  Unit
1x  : Interior  Control  Panel  –  Thermostat Included
1x  :  Remote
4x : Metal Washers Large
4x : Metal Lock Washers
4x : Mounting Bolts Large
4x : Mounting Nuts
600g R134A Refrigerant (pre filled)
1x : 14x 14 Waterproof Gasket
1x : Interior mounting brace 14×14 (Metal Powdercoat)
1x : Flush mount interior vent aluminum (aluminum or powder coated)
8x : Small black finish screws for interior vent placement
Optional Installation Kit Includes
1x – tube of ProFlex RV sealant (required caulking gun)
1x – roll of refrigeration tape
15 feet of 2AWG wire for DC positive and negative wiring to the unit
2x – 2AWG electrical lugs
1x Blue Sea 187 circuit breaker 100A-120A
Outside Shroud Available in Your Choice of Color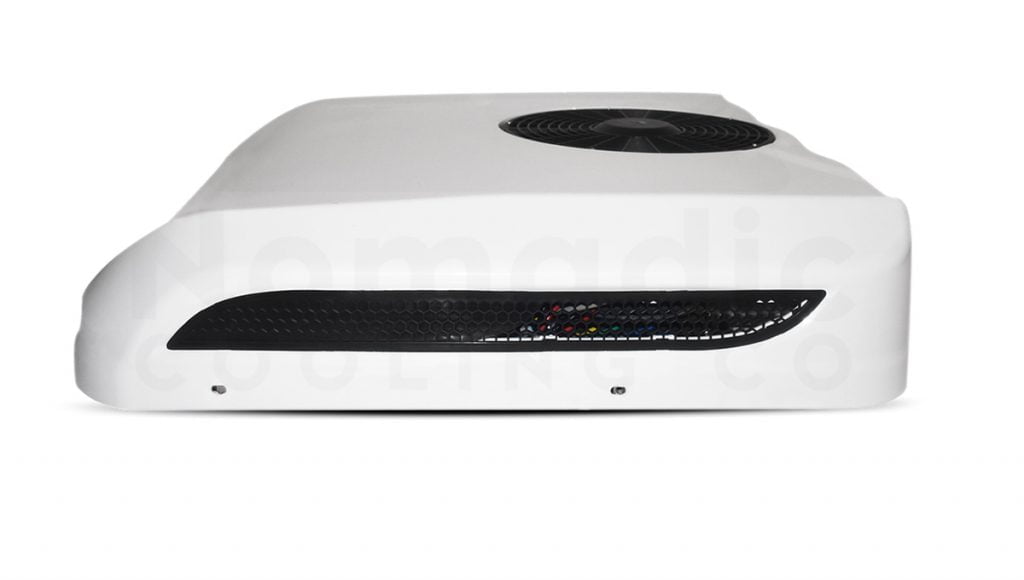 Black Rhino Liner – $299 Upgrade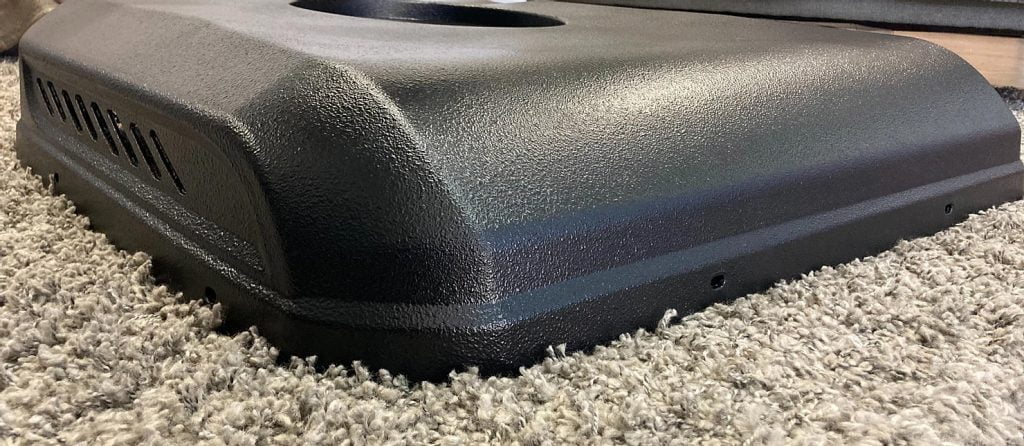 Glossy Black – $399 Upgrade
Custom Paint Color Match – $499 Upgrade
We can supply this AC unit painted to match your vehicle's paint exactly. If you choose this option you will need to provide the paint code for your vehicle. This video describes how to do that.